O4 is a web-based version of our OASIS software that allows users to access data on the go. O4 provides an updated user interface and new features like Tiles and Conversations designed to make your everyday processes and workflows more efficient. This article will cover:
Legacy OASIS vs. O4


What is the Legacy Version of OASIS?
Standard O4 Benefits

How O4 is Billed

O4 User Types
O4 Service Tiers

O4 Add-Ons
Moving Forward with O4
Learn more about the current development status of O4.
Legacy OASIS vs. O4
What is the Legacy Version of OASIS?
Since 2000, the OASIS client has been used by thousands of users at hundreds of agencies, distributors, and manufacturers. Before development began on O4, the client was the only way users could access the OASIS database.
With the rise of the mobile office and the evolving needs of our users and the lighting industry, we realized the need for a web-based version of OASIS that could be accessed by mobile devices outside of the office and through API calls using 3rd party applications. This led to the development of O4, and shortly after, the OASIS client became referred to as Legacy OASIS.
Many users are already familiar with the O4 Dashboard in Legacy OASIS. The O4 Dashboard provides a user interface that allows users without O4 access to experience select O4-exclusive features, such as Tiles. This article does not refer to the O4 Dashboard when describing O4 capabilities and features.
Standard O4 Benefits
The list below describes just a few of the benefits O4 has to offer.
Access OASIS data from a web browser, providing a remote access alternative
Conversations where users can log phone calls and send messages to other users
Call or email contacts directly from O4 from mobile devices
Generate and scan QR codes in O4 Samples using your mobile device's camera
Enable Two Factor-Authentication for increased security
Create reporting Tiles that periodically run, interpret, and publish updates automatically
Generate JSON API calls to retrieve OASIS data
Receive improved OASIS Support capabilities through Support Tokens
How O4 is Billed
O4 Service Tiers
The O4 Service is billed using a tiered system. Tiers are based on the number of users with the O4 Only and Hybrid (O4/Legacy) User Type that log in to O4 or the size of the database, whichever limit is reached first. For example, if a company has a total of nine users that log in to O4, but the database size is 150 GB, the company would fall into Tier II.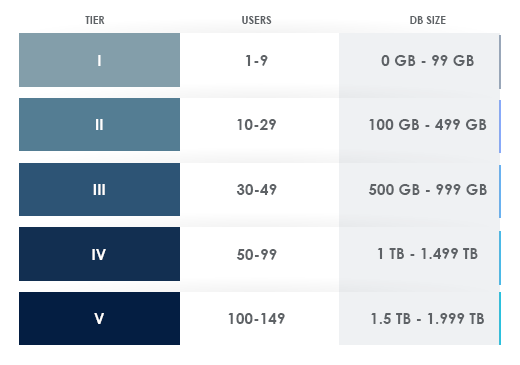 User Types
User Types are assigned using the User Editor. User Type can be changed at any time, but resulting logins may affect billing. For more information, please contact OASIS Sales by emailing sales@oasissalessoftware.com or calling 501-843-6750. Learn more about user types in OASIS.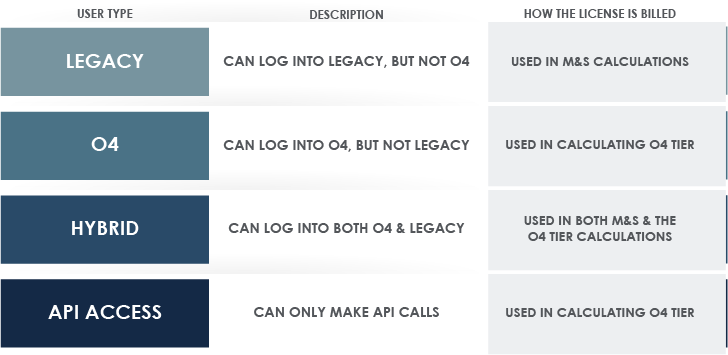 O4 Add-Ons
There are four O4 add-ons available for purchase: Customer Portal, Disaster Recovery, Sync, and Legacy Connection.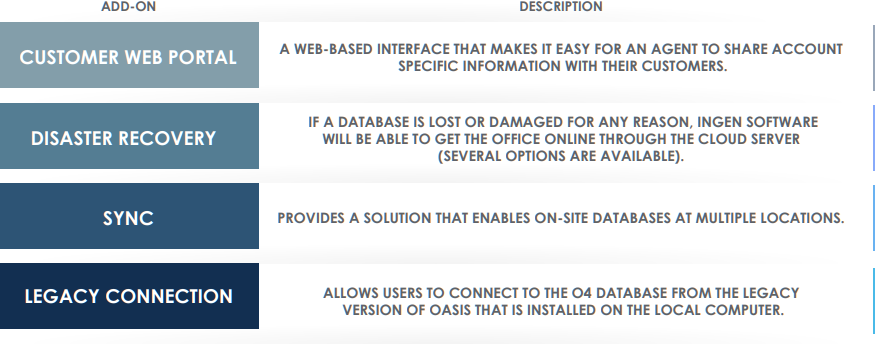 Moving Forward with O4
To move forward with O4, or for any questions regarding cost or logistics, please contact OASIS Sales at 501-843-6750 or sales@oasissalessoftware.com.