From the Contacts page, catalogs and samples can be left directly with the needed contact.
1. In the Contacts page, navigate to the Conversations view by selecting the
button and select a contact.
2. Select "Leave Catalog." A pop-up window will appear, listing available catalogs.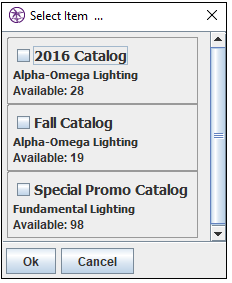 3. Check the box(es) for the brands you wish to leave.
4. Select "OK."
5. The "Message" window will appear, showing that information has been saved. For more information on catalogs, click here.