This article explains the Jademar connectivity setup so that OASIS can electronically communicate with Jademar. Note: users will need to get in touch with a Jademar contact in order to receive their user name and password for OASIS connectivity.
Set Up in OASIS
1. Double-click to open the Jademar manufacturer entry, or create a new manufacturer entry in OASIS for Jademar. For more information on creating a manufacturer, click here.
2. The "Manufacturer Editor" window will appear.
3. In the Connectivity section of the General tab, select "Jademar" from the Specialization drop-down list.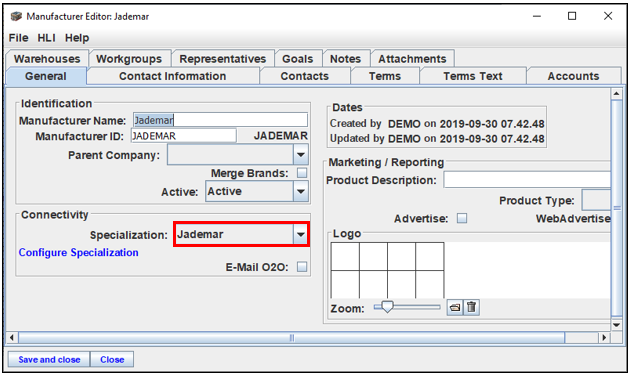 4. Select the "Configure Specialization" link.
5. The "Configure Data to Send to Manufacturer" window will appear.
6. Enter the user name and password that was received from Jademar, and click "Test."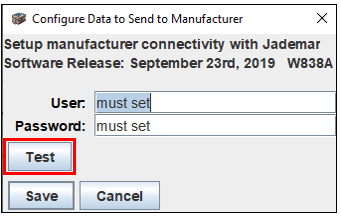 7. If an error message appears, please contact OASIS support at 501-843-6750 or support@oasissalessoftware.com.
8. If no error messages appear, select "Save" to save the changes.
9.  Select "Save and close" on the Manufacturer Editor window.
Viewing the Price File
1. Navigate to the Manufacturers page.
2. Select "Pricing" from the drop-down list, and select Jademar.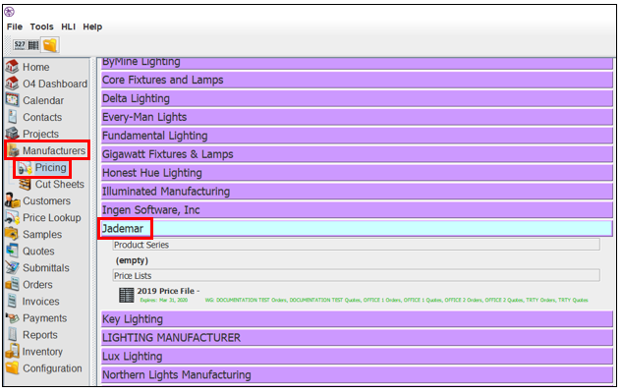 3.  Double-click on the  

   icon to open the active price file from the "Price Lists" section. 
4. The "Price List Editor" window will appear.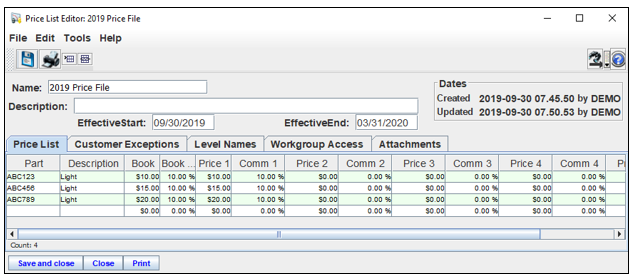 Using the Price File
1. Navigate to the Quotes page.
2. Double-click to open a quote, or create a new quote.
3. Select a bid, and enter Jademar in the MFG column within the "Items" tab.
As you begin typing a part number, a menu will appear with suggested part numbers from the Jademar price file. You can select a part number from the list or continue typing to narrow the results further.