OASIS allows users to pull payment information directly from spreadsheets sent by Signify. This process allows users to import the invoice number and the amount paid. Note: it is recommended to complete the order status download before processing commission payments. For more information, click here.
1. Navigate to the Payments page.
2. Click
to create a new commission payment.
3. The Select Manufacturer window will appear. Select the Signify manufacturer entry, then click Ok.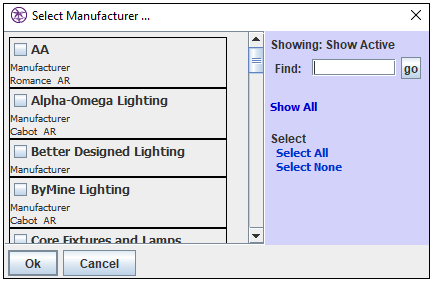 4. The Payment Editor window will appear.
5. Enter the Check Number and the Check Amount.
6. Drag the .xlsx file from your desktop into the Payment Editor window. Note: alternatively, select Tools, then Load XLS or CSV and locate the file on your machine.
7. A PDF file will open, showing if matches were found for existing invoices in OASIS. The found invoices will automatically appear in the payment editor.