Typically, the OASIS database is started as a windows service. However, it may be necessary to start the OASIS database manually. This process may only be performed on computers that have the OASIS server components installed (Adaptive Server Anywhere).
1. On your computer, locate and run "ASA Manual Start."
2. The "Server Startup Options" window will appear.
3. Select "Browse" to locate the "oasis.db" file. Note: typically, the server name is set to "oasis."

4. For most users, all other fields in the window should be kept the same.
5. Select "OK."
6. The "Adaptive Server Anywhere" window will appear.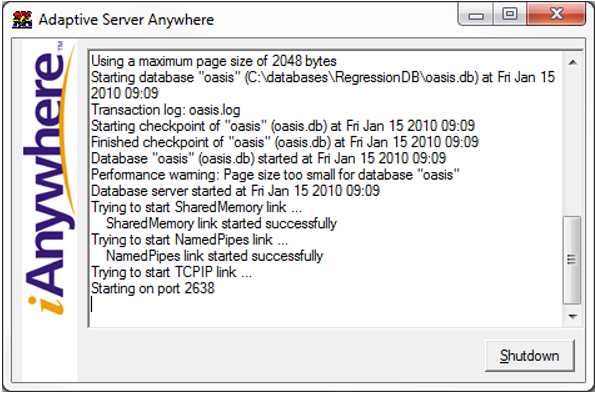 7. If any "assertion" errors are reported, contact customer support immediately. This may mean you have a corrupted database.
8. When the "Adaptive Server Anywhere" window disappears, a small icon will show in the lower right corner of the screen. This will be the database service.