Occasionally there may be a need to move the OASIS database from one machine to another or from one drive to another on the same machine. This process is not as simple as copy/paste or drag & drop. There is a process that needs to be followed so that it will work properly.
STOP HERE!
If you do not have a recent, verifiable backup, please create one before going any further. If you need recommendations please call our office at 501-843-6750 for more information.
Process
Shut the OASIS database down by clicking the "Stop" button in the ASA Configuration utility.
Remove the OASIS service on the old server by clicking the "Remove" button in the ASA Configuration utility.
Create a new File/Directory on the new server similar to: C:\OASIS
Keep in mind this needs to be located on a drive with adequate room
If there are any questions, please give us a call.
Copy/Paste the "oasis.db" and "oasis.log" file from the existing machine to the newly-created directory on the new server.
NOTE – Copy/Paste. Do Not Move
Create a new service for the database
Start the database
If you are moving the database to a different machine, install the OASIS 2.7.3 server version on the new machine. Click on the link below for install help. Warning: If you are an existing OASIS customer, please contact Support for the server installer. The link below requires v17 licenses to be added to your database. Starting an older database with this installer can prevent users from connecting. New customers are unaffected by this.
However, if you are migrating to a new server and have not yet converted your database to V17, this would be a very good time to do so. To see a help sheet for an overview of the process, click here.
Once OASIS is installed:
On the machine housing the new database,
- Go to Start, then All Programs (Programs)
- Then OASIS273
- Then Database
- Then "ASA Configuration"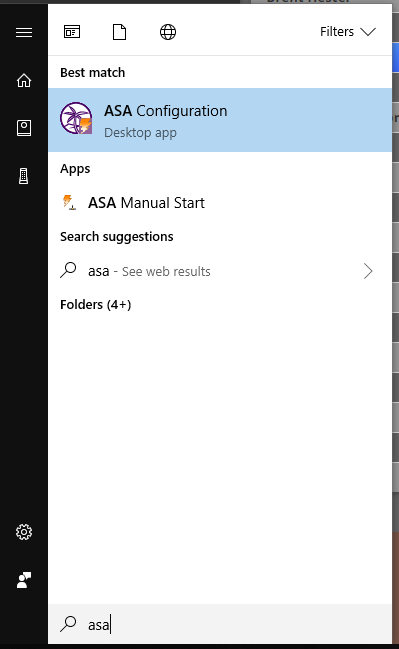 In the Adaptive Server window, go to File, select New Service
The 'Create New ASA Service' window appears
Type the name of the database - In almost all cases, it should be "OASIS"
In the Database File: type the path where the database resides.
Un-check "Create Database" (VERY IMPORTANT)
Port should say 2638
Click OK.
***NOTE***: Failure to uncheck the "Create Database" box may result in your current database being overwritten with an empty database. This will cause you to have to copy your database over again, costing you more down time.
The database service will now start automatically when the server is rebooted.
Reboot the machine and the OASIS database should start automatically, or just click the Start button under the service information window. Check the data to make sure everything looks normal.
Please give us a call if you have any questions or need help.
501-843-6750