Ingen Software utilizes Zendesk, Inc. as our ticket management system to provide OASIS Support. A Zendesk account provides a dashboard to view all tickets you've created and allows you to comment on our help articles and community boards. This article will explain how to:
Create your Zendesk account
View your tickets
Respond to tickets
Solve your tickets
Create follow-up tickets
Note: is not required to create or use a Zendesk account to contact OASIS Support. Users can create and reply to tickets through the email chain that each ticket creates.

Creating Your Zendesk Account for Ingen Software
There are two ways to create your Zendesk account for Ingen Software:
Users will be prompted to create a Zendesk account when they open a ticket for the first time
Users can manually follow the steps to create an account from our Zendesk help site
From Your First Ticket
1. After you open your first ticket with us, Zendesk will prompt you to finish setting up your account. Click the Create a password link provided in the email.

2. A new web page will open. Enter a password that meets the password requirements, then click Set password.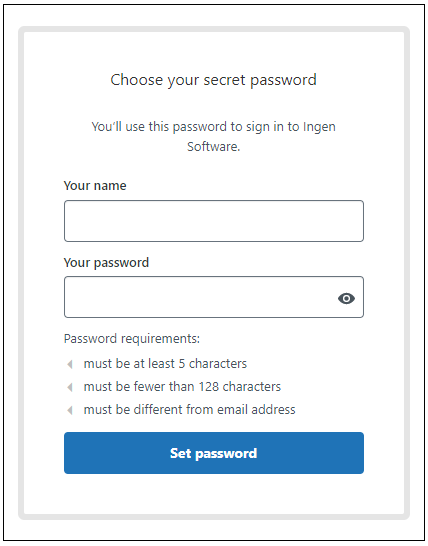 3. Your account will be created.
From our Zendesk Help Site
1. In a new tab, navigate to our Zendesk Help Site.
2. Click Sign in.
3. A sign in screen will appear. Click Sign up.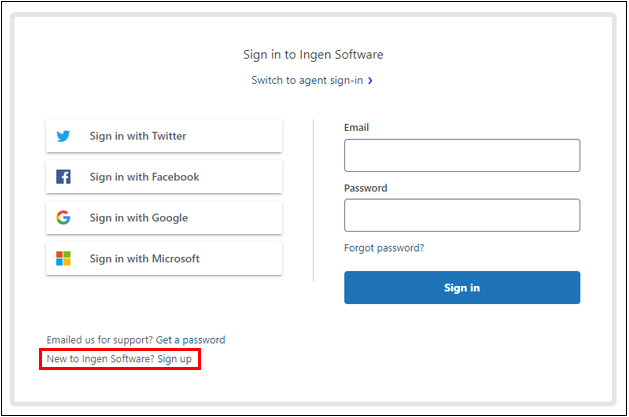 4. A new screen will appear. Enter your full name and email, then click Sign up.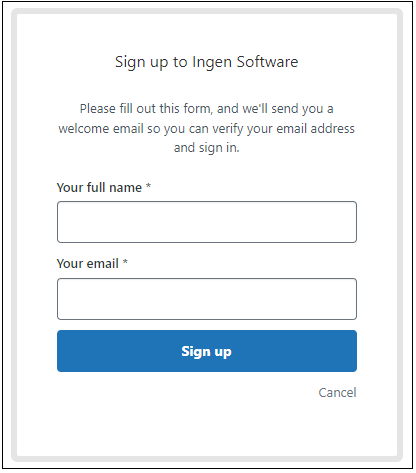 Viewing Your Tickets
1. Once signed in, click your name in the top-right corner and select My activities from the drop-down list.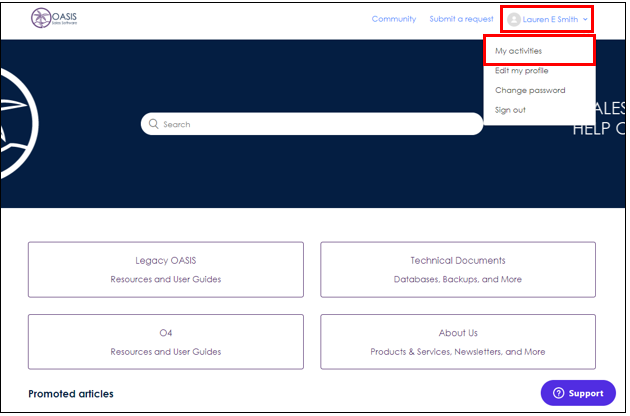 2. The My requests tab will appear displaying all current and past tickets. Your tickets will be displayed in chronological order based on create date. Note: if you are CC'd on a ticket, click the Requests I'm CC'd on tab instead.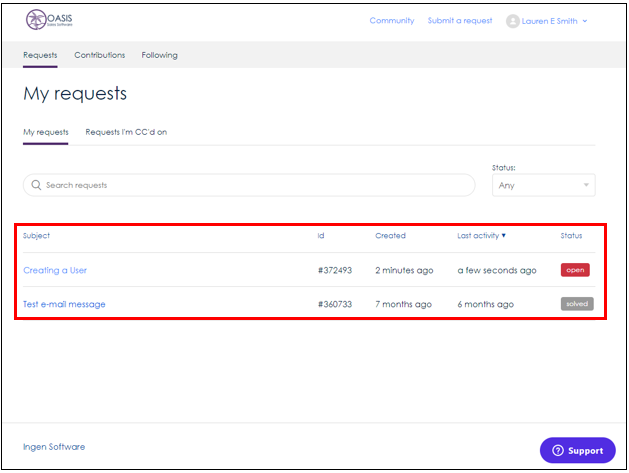 3. The Subject column will display the subject line of your ticket.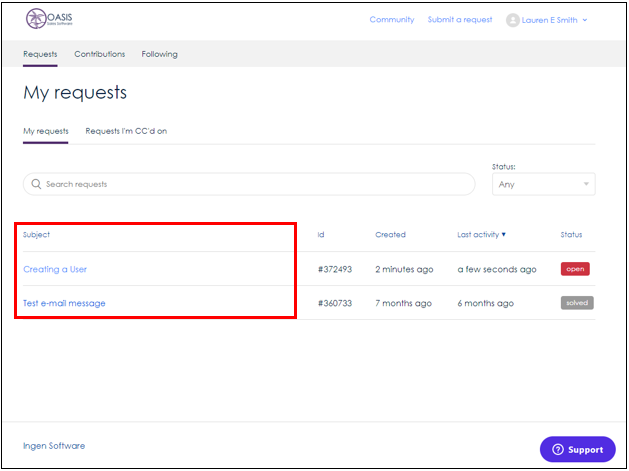 4. The Id column will display the ticket number associated with your request.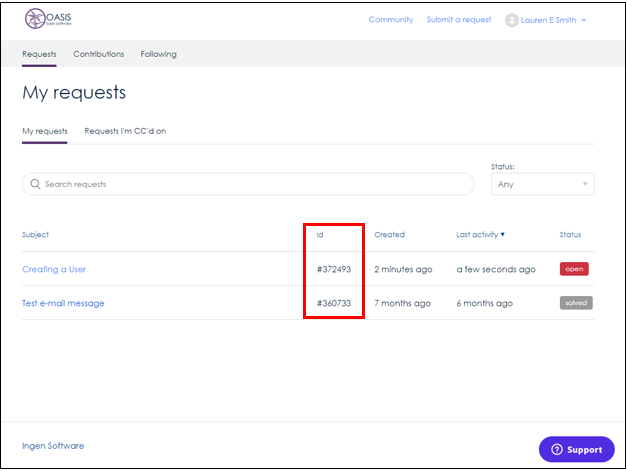 5. The Created and Last activity columns will display when your ticket was created and when the last update happened, respectively.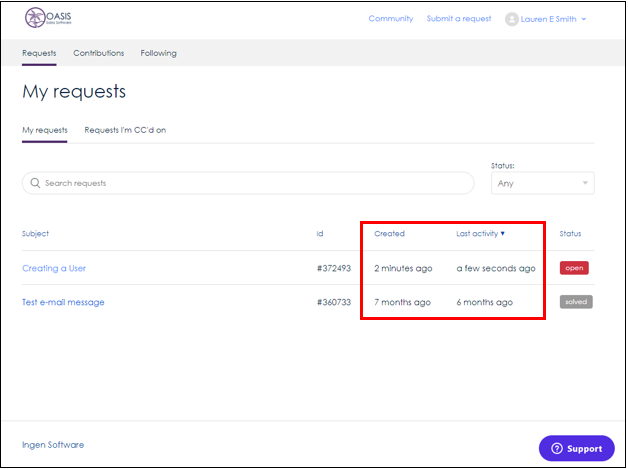 6. The Status column will display the current state of your ticket.
Open- the ticket is currently being handled by OASIS Support
Awaiting your reply- the ticket is currently awaiting action by you
Closed- your ticket has been closed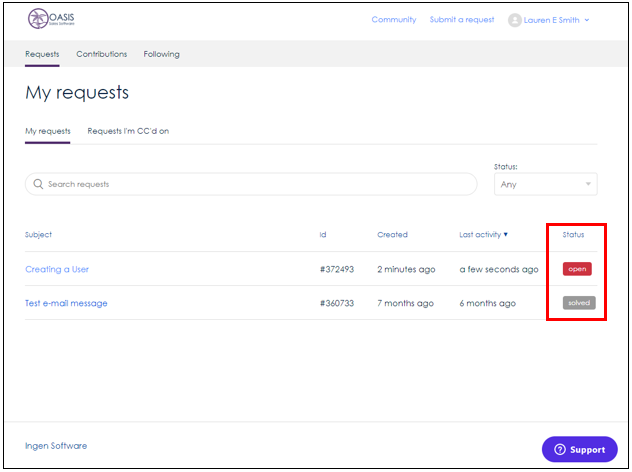 Responding to a Ticket
1. Click the subject of a ticket to view its details.
2. Ticket information will appear. The section on the right will display ticket identification details.
Requester- the user who opened the ticket (most likely you)
Created- the date and time the ticket was created
Last activity- the date and time the ticket was last updated
Assigned to- the OASIS team member currently handling your ticket
Id- the ticket number
Status- the current status of your ticket (Open, Awaiting your reply, or Solved)
Release Notes- details about the software update/fix that resolved your issue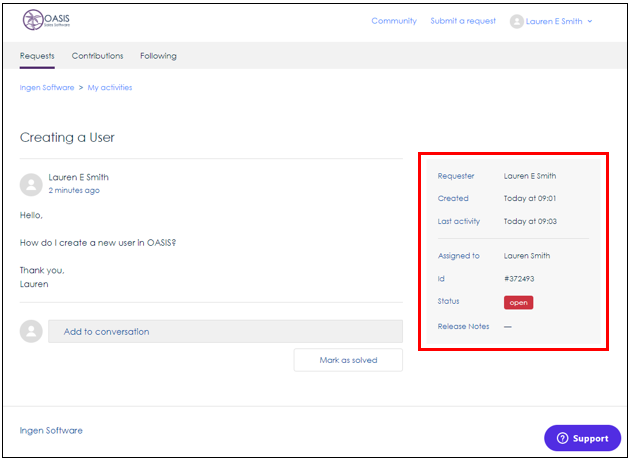 3. The ticket conversation will appear on the left. You can review messages between you and our OASIS team. To add to the conversation or submit new details regarding your request, click the Add to conversation field.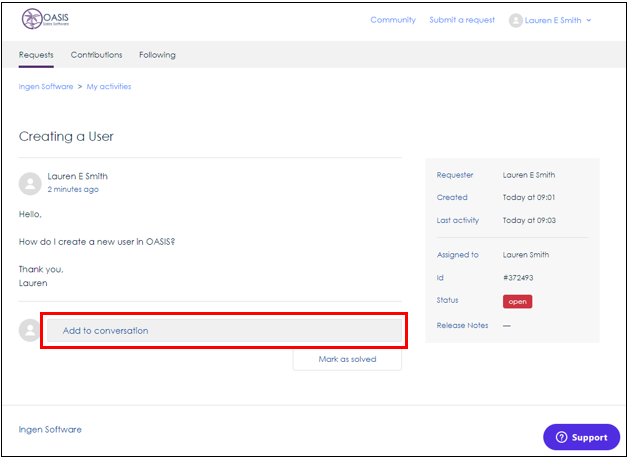 4. Enter your message into the text field. Click Add file or drop files here to attach files to your message.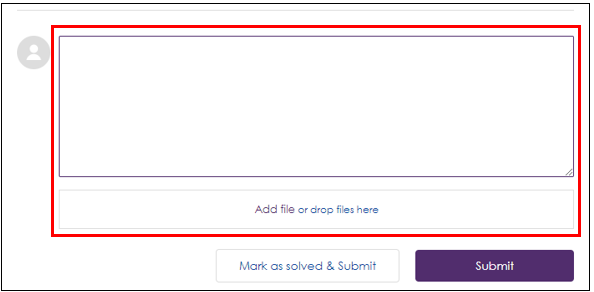 5. Click Submit to send your message to OASIS support.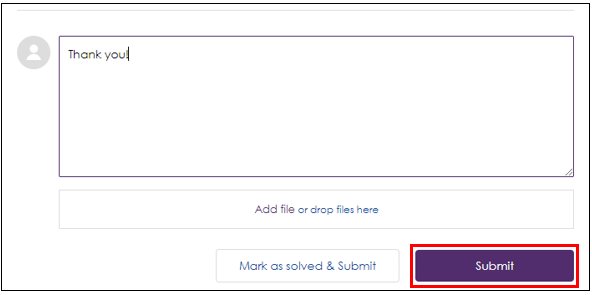 Closing Your Ticket
You can close your ticket at any time with or without a response.
With a Response
1. If you wish to close your ticket and send a response simultaneously, click Add to conversation from the ticket detail view.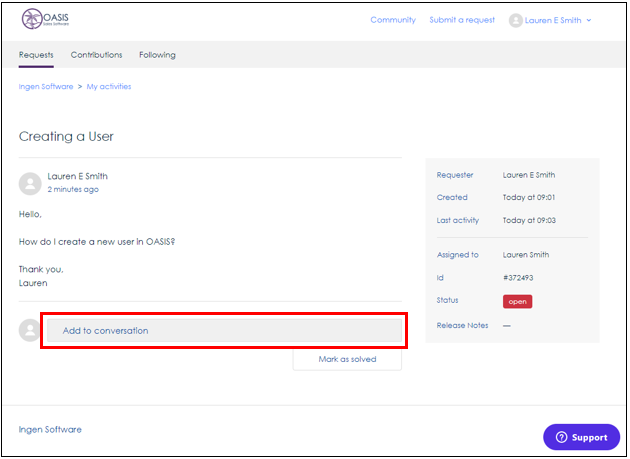 2. Enter your message into the text field that appears, then click Mark as solved & Submit. The ticket status will change to solved.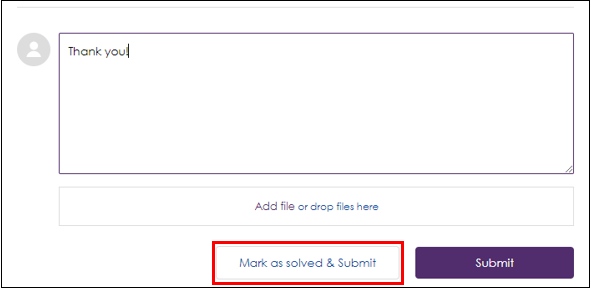 Without a Response
1. If you wish to close your ticket without sending a response, click Mark as solved from the ticket detail view. The ticket status will change to solved.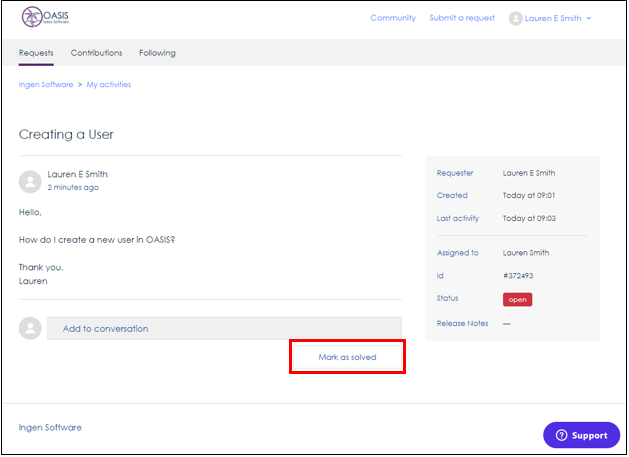 Creating a Follow-Up Ticket
1. If your ticket closes and you wish to reopen it, click the solved ticket.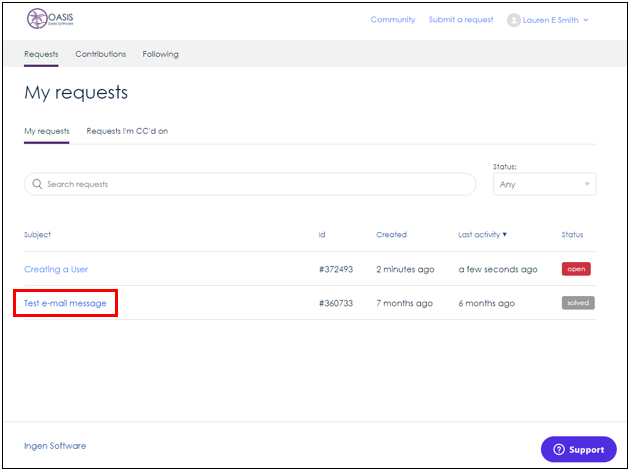 2. Click create a follow-up. This will create a new ticket that will be tied to your previous ticket.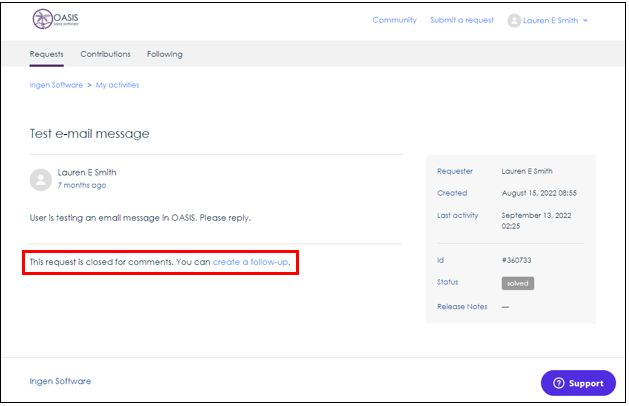 3. Modify the Subject and Description as needed. Click Add file or drop files here to upload files, if necessary.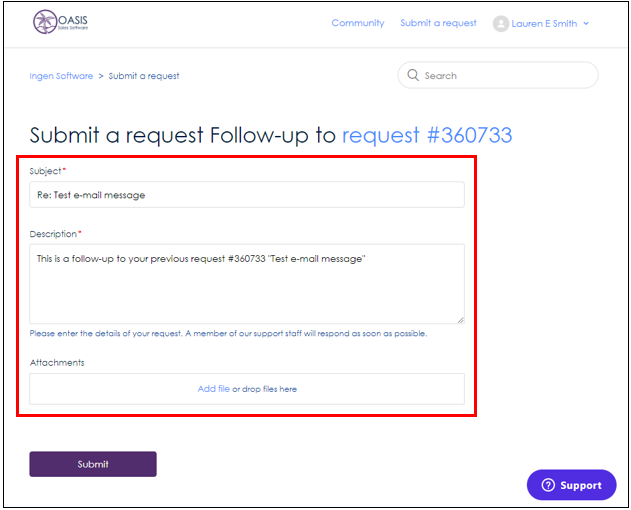 Click Submit. The follow-up ticket will appear in the My requests dashboard.