Users now have the ability to access pricing for individual H.E. Williams parts in OASIS. This article will explain how to enable dynamic pricing for H.E. Williams as well as how it works.
Note: this article assumes that the H.E. Williams connectivity has been configured in OASIS. For more information, click here.
Setting up HEW Dynamic Pricing
1. Navigate to the Manufacturers page.
2. Open the manufacturer entry for H.E. Williams.
3. The "Manufacturer Editor" will appear.
4. Select the "General" tab.
7. Select the "Configure Specialization" link.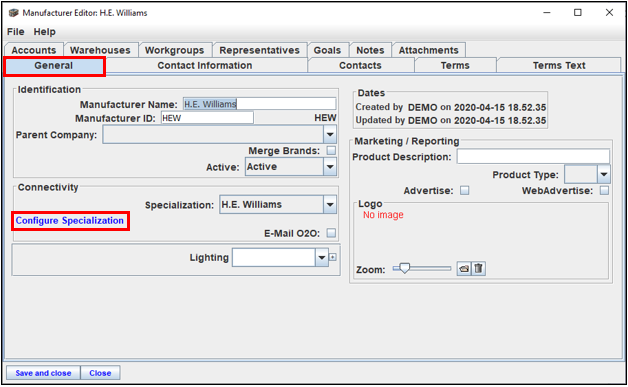 8. The "Configure H.E. Williams Connectivity" window will appear.
9. Select the "Configure" tab
10. Enter the Service URL provided by HEW into the "Service URL" field. Note: the URL will default to http://ws1.hew.com/oasis/Oasis.svc.
11. Enter the Agent IDs provided by HEW into the "Agent ID" column for each respective Workgroup field.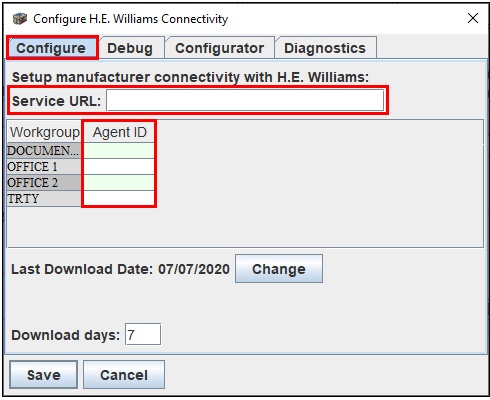 12. Select "Save."
How it Works
Once configured, the pricing is automatic. Within a quote or order, users enter the H.E. Williams brand in the manufacturer column and start typing in the part number. OASIS will query for pricing behind the scenes. OASIS will notify users that it is pulling pricing with the following notification box that will appear at the bottom right hand of the user's screen. The user can continue working during this background process.
Once the first user gets the pricing for a part, it is then available for all other users for the seven day period without having to query H.E. Williams for the price again. It will be updated automatically once the seven-day expiration date is reached.