Overview
Downloading the commissions from Focal Point does only the nasty data entry task for reconciling a payment in OASIS. The user is still able to use the "close PO", "close invoice", "dispute" check boxes to ensure the payment is complete and properly applied to the transactions in OASIS.
Downloading the Commission Check Data
Select the Payments application in OASIS and create a new Focal Point commission check: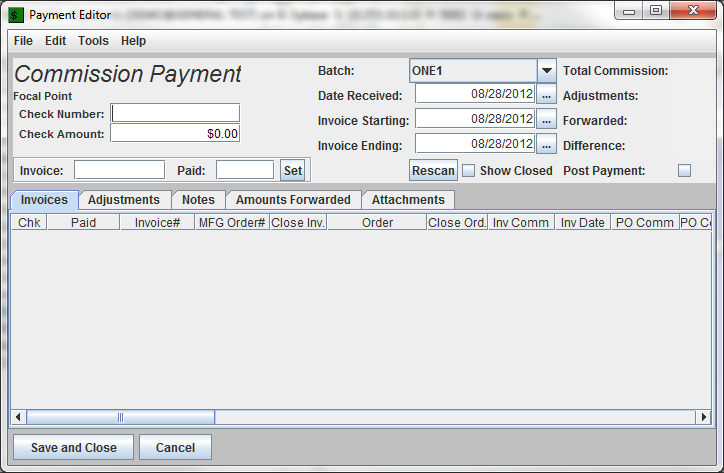 Next, select the Tools menu and then "Download payment from manufacturer ...". OASIS will scan the Focal Point server for all the available commission checks (only one is shown here):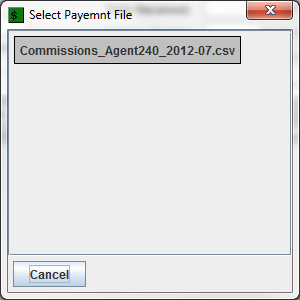 Click on the commission check to download and enter into the OASIS payment screen.
The download may take several minutes as the following actions are being taken:
The related check number is set in the OASIS payment
The total amount of the check is set in the OASIS payment
Each matching invoice is added to the OASIS payment screen


The amount paid against the invoice is entered
The balance is automatically calculated for the invoice and PO
If the invoice is paid as expected by OASIS, the invoice is closed when the payment is posted.
if the PO is paid as expected by OASIS, AND ALL INVOICES HAVE BEEN RECEIVED, then the PO is closed when the payment is posted.

Finally a report showing what invoices matched or did not match is created in PDF format
Example OASIS Payment from Focal Point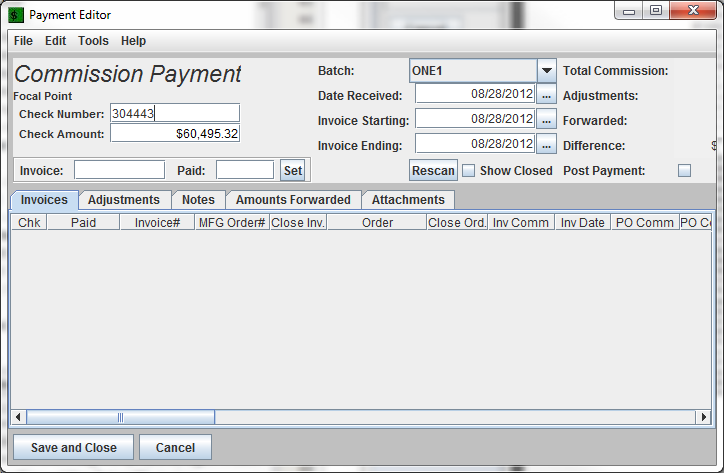 Example Focal Point Check Download Report: