OASIS provides a way to create mailing labels for customers and for your company. OASIS uses standard labels, such as those found at most office supply stores. This feature allows users to create labels for any number of uses. However, new O4 developments will soon replace this process.
Creating Customer or Manufacturer Mailing Labels
1. Navigate to the Customers page or the Manufacturers page. This example will use the Customer page.
2. Filter and select customers as needed.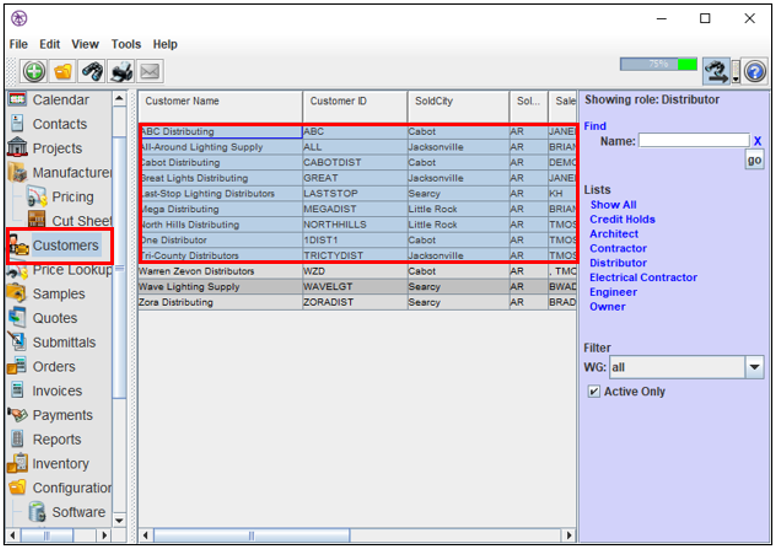 3. Select "File."
4. Select "Print Labels."
5. The "Print Customers Label" window will appear.
6. Enter any needed information.
Output to- select a printer
Batch name- insert a batch job. For more information, click here.
Customers- review the customers selected from the previous screen. Note: customers can be added or removed as needed.
Template- select the size of the labels
Skip- select where labels should start on a label sheet
Address company- select "Sold to," "Bill to," or "Ship to."
Address Contacts- select "Work" or "Home" address
Include Companies w/o Contacts- check box to create labels for companies that have no contacts listed.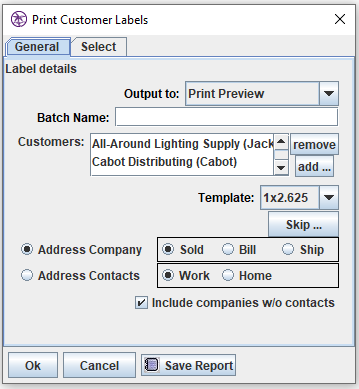 7. Use the "Select" tab for more options in selecting contacts (optional).
8. Select "OK." A label sheet will appear in a new window.
9. Select "Print."