OASIS allows users to adjust the commission check account for items such as freight, samples, and bonuses. OASIS allows users to charge these adjustments to a commissioned account if needed.
1. Open a new or existing payment.
2. Select the "Adjustments" tab.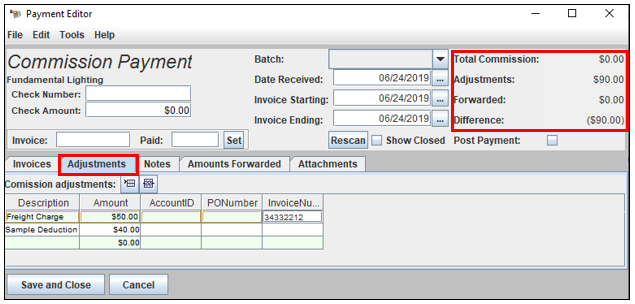 3. Use the

button to add lines and the

button to remove lines.
4. Enter any needed information. Note: enter deductions as negative numbers and additions or bonuses as positive numbers.
5. Double-click inside a field to edit the content.
6. Enter an Account ID to add or deduct these adjustments to a sales account.
7. Link the adjustments to a PO number or Invoice number if needed.
8. Adjustments will be totaled in the header. The goal is to reduce the difference amount to $0.00, but it does not need to be $0.00 to post the payment.