One option for printing a quote is to print an MFG breakout. This option is used when a winning customer has been selected, and the user must send breakouts to the customer, so the user can receive orders from them. OASIS will print a breakout for each manufacturer on the quote and a summary page for all the manufacturers. Note: option codes will not appear on the printed copy unless they are set to "Win Option."
1. Select the "MFG Breakout" option.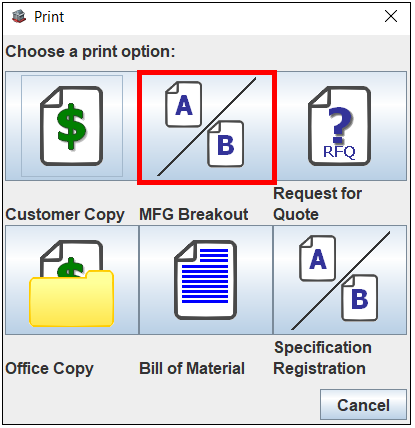 2. The "Print MFG Breakout" window will appear with the winning customer selected.
3. Select the "Output to" field.
4. Make sure the appropriate customer and contact are selected.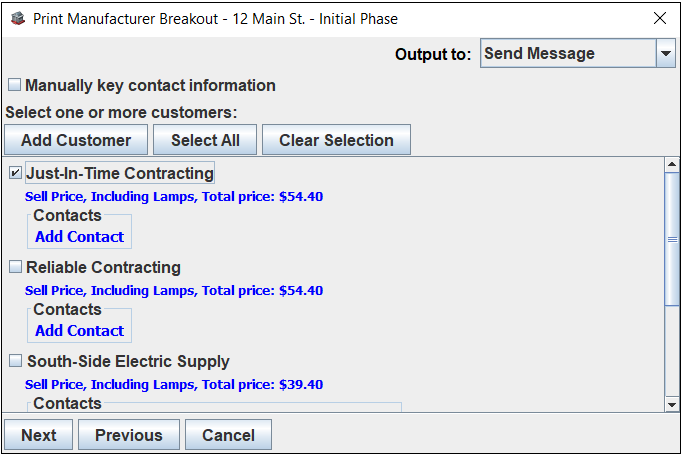 5. Select "Next."
6. Check the boxes for the needed print options.
Unit Price- shows the unit price
Extended Price- shows extended price column
Quote 2nd Column- allows you to show a 2nd price column of your choice
Hide Quantities, Hide Line Notes, Hide Description- hides these items
Hide Part Numbers, Hide Manufacturer IDs, No Parts- hides these items
Suppress Zero Quantity- suppresses any lines with a zero quantity
Show Grand Total (Lot Net)- shows a grand total
Show Subtotals and Options- shows any subtotal or option line
Show Components, Lamps, and Accessories- shows component, lamp, and accessory lines
Show Component Prices- shows component, lamp, and accessory prices
Show Manufacturer Terms- shows manufacturer terms and conditions
Show Bid Name- displays the project name, phase name, and bid name
Show Lamp Takeoff- shows lamp lines separately, below the bill of materials
Estimate Total tax- adds estimate for the tax based on customer setup or project location
Show Lot Lines- prints any lot lines
Landscape- prints landscape instead of portrait
Limit Manufacturers- allows users to select or limit manufacturers printed on the quote
Draft only- is automatically checked to encourage users to preview before sending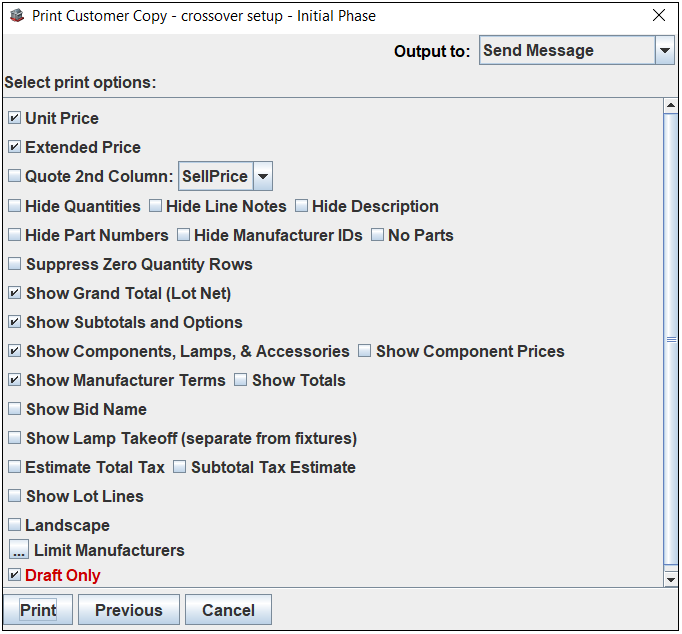 7. Select "Print."