OASIS allows users to customize what columns are displayed in the quote and what order they appear. This allows users to view the most important information associated with a quote. This process can be completed through the Projects page or the Quotes page. This example will use the Quotes page.
1. Navigate to the Quotes page.
2. Create a new quote or open an existing quote.
3. Select "File."
4. Select "Preferences."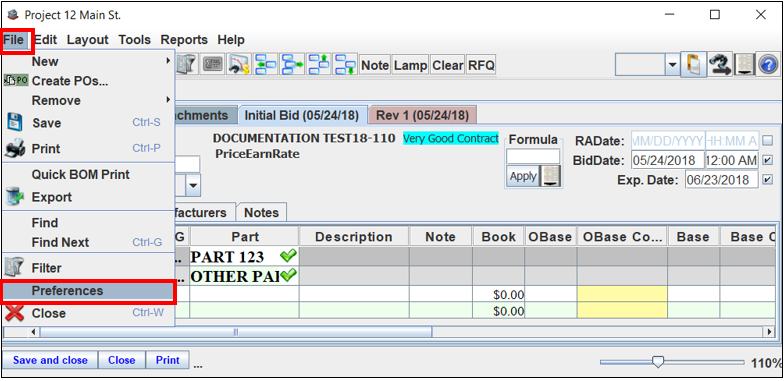 5. The "Set Quote Preferences" window will appear.
6. Select the "Columns" tab, and locate the "Column" area.
7. Check the boxes corresponding to the columns you wish to appear on the quote. Note: unchecked boxes will not appear on the quote.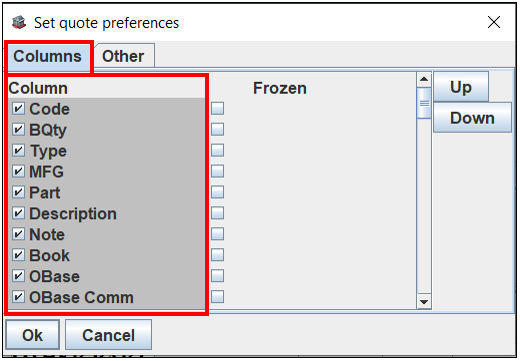 8. Locate the "Frozen" area.
9. Check the boxes corresponding to the columns you wish to freeze the column in a bill of materials.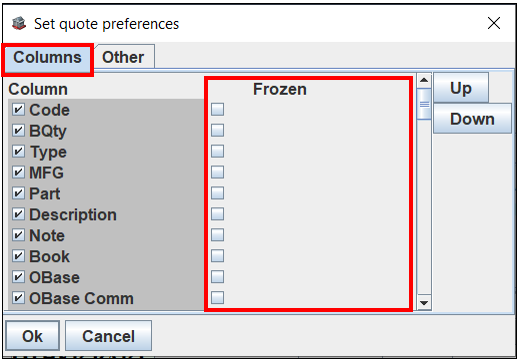 10. Select the "Other" tab.
11. Customize settings as needed.
Show- shows the total price for the corresponding level in the header area of the quote
Price Lookup- allows ability to interact with a price file in OASIS
Other

Show order entry notes when adding new mfgs- allows order entry notes to appear on the new manufacturer entry on the quote
show matches and differences between quote and submittal- allows check marks to show when parts match in quotes and submittals. For more information, click here.
Auto create REP columns as REP lines are added- causes an REP column to be created when a REP line is used
Pressing enter- sets up what function occurs in a quote when Enter is selected on the keyboard
12. Select "OK."