At times, a job may be a bid. Users may have collected information and data related to the job, customers, and specifiers involved. Sometimes, users will not be awarded the job, but this data may be helpful to report on. One method is to record competition, to note who received the job, and to mark the job as inactive.
Adding Competitors
1. Navigate to the Projects page.
2. Select "File."
3. Select "Configuration."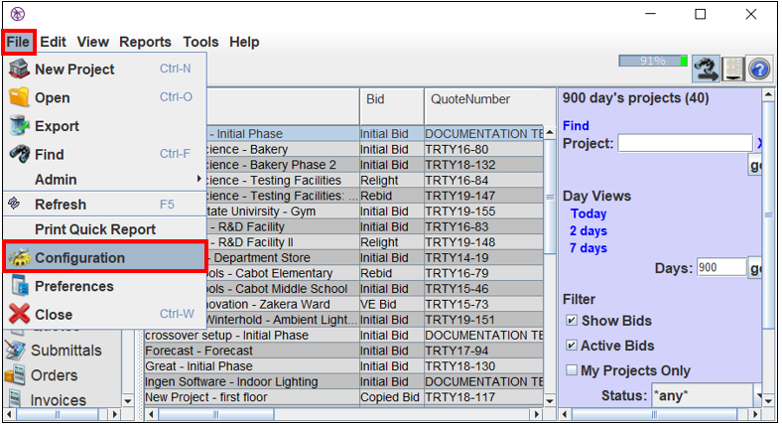 4. The "Configure Projects" window will appear.
5. Select the "Competition" tab.
6. Select the

button to add competition.
7. Double-click in the first available field.
8. Enter a name for the competitor.
9. Enter any notes related to the competitor.
10. Select "OK."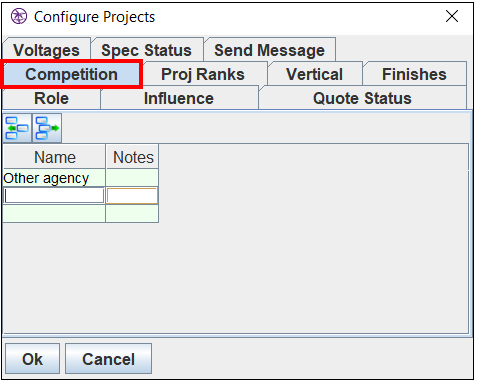 Noting Who Received a Job
1. Navigate to the Projects page.
2. Open the needed project.
3. Select the active "Phase" tab if there is more than one.
4. Select the "General" tab.
5. Locate the "Won By" field, and select the agency/company who won the project.
6. Uncheck the "Active" box to inactivate the the job. Note: inactivating a job will remove it from any active quote reports.
7. Select "Save and Close."