OASIS defines three terms associated with shipping: unacknowledged, unscheduled, and unshipped. The Shipping Date Request Reports can reflect these specific categories for one or more manufacturers. This article will explain the features of the Shipping Date Request Reports.
1. Navigate to the Orders page.
2. Select "Reports."
3. Select "Shipping Date Request Reports."
4. The "Shipping Date Request Reports" window will appear.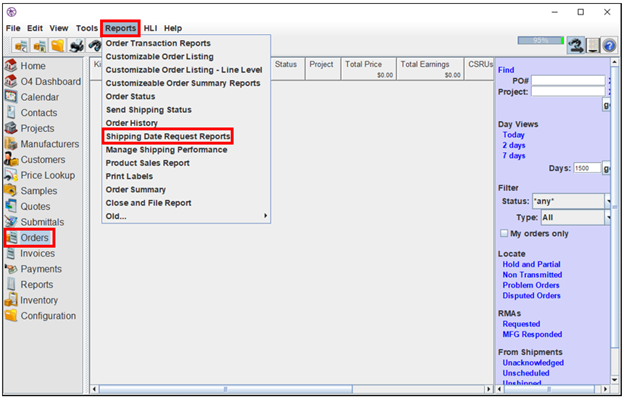 The General Tab
1. Use this tab to define the parameters of the report that are specific to shipment information.
2. Enter a name for the report in the "Title:" field.
3. Using the various checkboxes, set the parameters of the search.
Unshipped- orders that have been transmitted with at least one line without shipping information
Unscheduled- orders that have been transmitted and have a SO number but at least one line is without a scheduled date
Unacknowledged- orders that have been transmitted for at least three days but does not have a SO number
Missed Shipping Target- orders that have at least one line where the current shipping date is past the target date, which is initially set from the initial scheduled date
Rescheduled- orders with lines that have been rescheduled a certain amount of times defined in the subsequent field
4. Select one or more manufacturers by clicking the

button. To remove a manufacturer from the selection, highlight the manufacturer from the selection and then click the

button.
5. Set the timeframe for the report to generate results for in the "On or Before:" field. Note: this is based on the entry date for the order.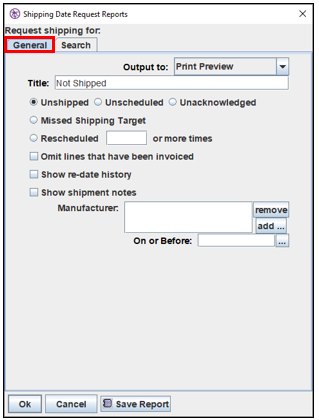 The Search Tab
1. Use this tab to narrow the results of the search for this report further.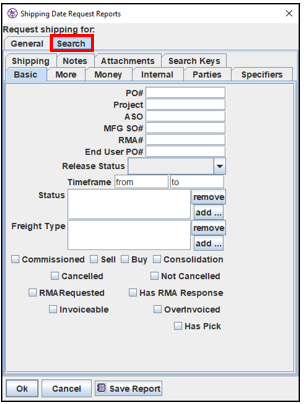 4. Select "Save Report" to save this report to the Reports page of OASIS. For more information, click here.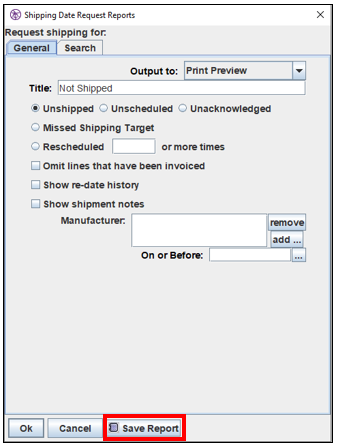 5. Select "Ok" to run the report.