Previously in OASIS, distributors were required to use the OASIS bid concept or multiple LOT lines with multiple pricing columns to represent bids from sales agencies. The REP line advances this concept by linking material bid by the REP to the price the representative quoted.
REP Lines
Use the "REP" code to mark the line as representing a sales agency. The name of the agency is supplied with the cost of the package and any markup. These values are not added to the bid unless the material lines are on the quote. The name of the representative is used in the "MFG" column on the REP line.
Material Lines
Lines of material may be associated with the REP line by typing "LOT XXX" where XXX is the name of the related representative. Until one or more material lines are associated with the representative, the REP line is not added to the quote.
Other Ideas
Use the internal note column to identify special needs or if the item is to be supplied from stock. This will visually help the user to identify "holes" in the lighting package or other material.
Example
Note the bill of materials, showing the following:
lamps supplied by the distributor
three reps covering different potions of the lighting schedule
ATMFG Sales is the preferred package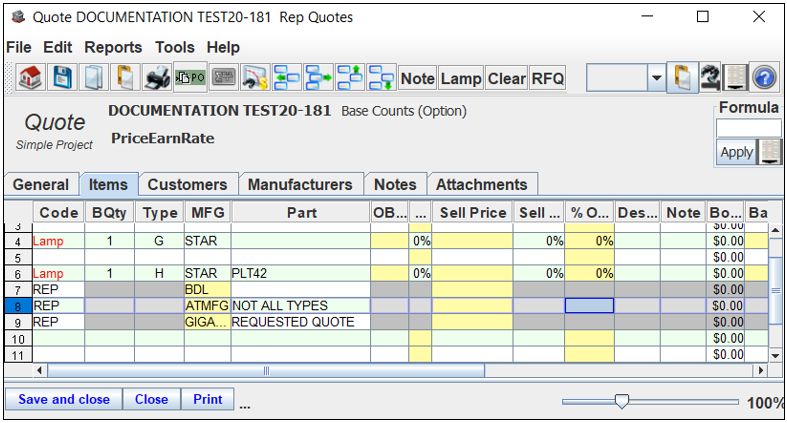 In this example, the user is able to perform the following functions:
define a line on the quote for each representative showing their bid and markup
define lamps supplied by the distributor
define items supplied by the distributor
define items supplied from stock
define items supplied by the representative's manufacturers
define which representatives are to be used