The user configurator is available throughout OASIS, but is typically used in projects and orders to guide the user through the creation of a valid catalog. (And if series rules are used, a valid catalog number that can be built. However, it is still recommended to consult the factory to ensure the item may in fact be built.)
Select Series
When selected from a quote or order, the "Select Series" window will show - typically filled in with the manufacturer on the selected row.
The manufacturer may be changed by keying over the selected manufacturer name. The series for the selected manufacturer are shown.
Simply clicking on one of the series will show the user configurator.
User Configurator
The user configurator may be used interactively, or by keying catalog number and pressing "Update"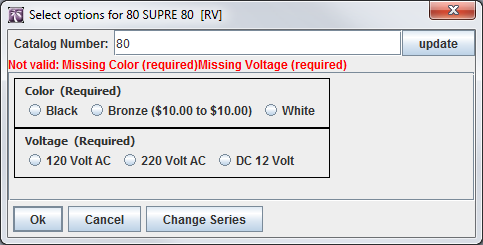 Catalog Number- The catalog number is updated after every user option selection to represent the resulting catalog number. Additionally, a catalog number may be keyed manually followed by pressing the "update" button. This will cause the user configurator to apply all option and rule logic, select the options as required and the catalog number is altered (pretty-ed up) as required by dash rules.
(Status - shown in red)- Show black when a valid configuration is made. Otherwise, the status is red with a note about what rule was violated.
(Options list)- below the status is a list of all valid options and the items in each item. Users may make any selection, and the status is shown as required.
Ok- if selected from a quote or order, the catalog number is copied back to the quote or order and pricing is updated as required.
Cancel- if selected from a quote or order, no changes are made to the transaction.
Change Series- return to the "Select Series" window, allowing a different series to be selected.