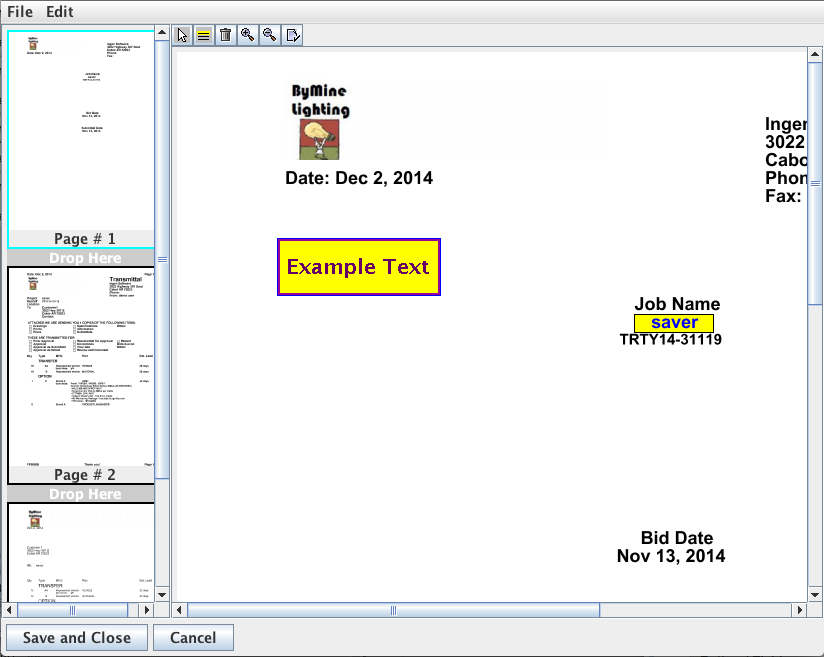 Toolbar Buttons
| Button / Field | Purpose / Action |
| --- | --- |
| Select Tool | Select highlights |
| Highlight Tool | Allow user to draw highlight boxes |
| Delete | Delete selected highlight(s) |
| Zoom in | Zoom in - does not modify the document |
| Zoom out | Zoom out - does not modify the document |
| Highlight Properties | Allow user to modify the highlight properties. Includes adding text, and changing colors |
Menus
File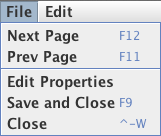 Edit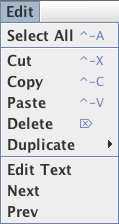 Menu Item
Purpose / Action
Next Page
Show next page
Prev Page
Show previous page
Edit Properties
Edit the selected highlight properties
Save and Close
Save changes to PDF and close the window
Close
Close the window without saving chagnes
Select All
Select all highlights
Cut
Cut selected highlights
Copy

Copy selected highlights

Paste
Paste copied highlights
Delete
Delete selected highlights
Duplicate

Up - create a duplicate above selected highlight
Down - create a duplicate below selected highlight
Left - create a duplicate to the left of the selected highlight
Right - create a duplicate to the right of the selected highlight

Edit Text
Edit text of the selected highlight
Next
Select next highlight
Prev
Select previous highlight
Page List

Shows a list of all the pages in the PDF file. The selected file is highlighted in blue and is shown to the right. When another page is selected, the changes are remembered. However, changes to the PDF document are not saved unless "Save and Close" is selected.
Pages may be moved around by dragging and dropping pages.
Dropping PDF files from the desktop to the "Drop Here" are will cause the pages of that PDF file to be added to this document.
Popup Menu
Right clicking on a page will show the following popup menu: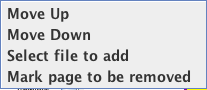 | Menu Item | Purpose / Action |
| --- | --- |
| Move Up | Move the selected page up |
| Move Down | Move the selected page down |
| Select file to add | Select a PDF file to add to this document |
| Mark page to be remove | When "Save and Close" is pressed, the page will be removed. |