The Pricing application in OASIS contains all of the product and pricing information in OASIS. To see the pricing system, select "Manufacturers" then "Pricing." To locate a manufacturer, use the "Find" feature or just key a manufacturer name and press "go".
Clicking on any manufacturer entry will expand the manufacturer entry. The data is divided into series and price lists. Series are product series configurations (e.g. a base troffer with all options). A price list is a more familiar one "complete" catalog number per row with available pricing. Double clicking on the series and price list icons will show the related editor and data.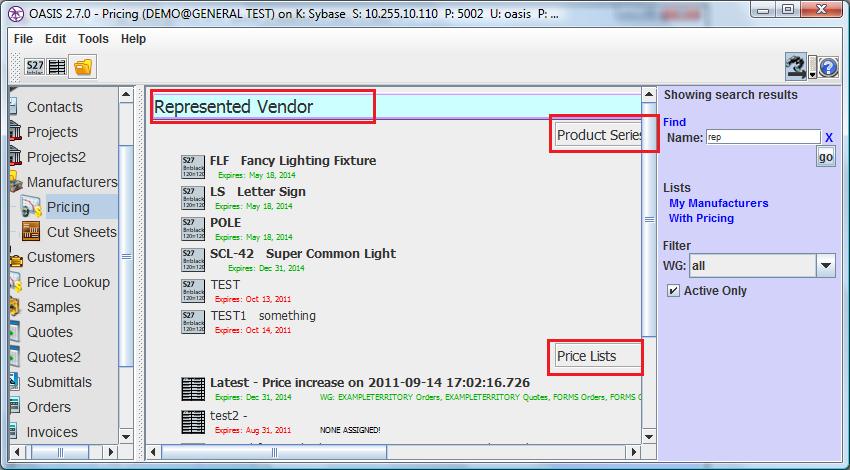 Menus
File

New

New Price List - create a new blank price list
New Price List Like - create a new price list with data from selected price list
New From History - create new price list by harvesting data from orders or quotes
New Series - create new series.

Open - open selected item
Export - export data for OASIS support.
Find - find manufacturer.
Delete - delete selected item
Refresh - refresh screen
Configure - setup pricing system settings
Close - close main OASIS window.

Edit
Tools

Update Pricing (with file) - update pricing using file supplied in OASIS format
Update Pricing - update pricing by downloading data directly from factory
Delete Old Price Lists - delete old inactive price lists.
Price Increase - perform a price increase.
Share Pricing - share pricing data with another company (creates an .o2o file that may be imported by another OASIS user).
Test Series Configurations - test only series using the user configurator.

Help - the standard OASIS help menu
Tool Bar

New Series - Create a new product series
New Price List - Create a new blank price list
Open - Open selected item
Show Search - show/hide search (task) bar
Help - show help
Task / search bar

Find - click to see a manufacturer search screen
Name: - key all or part of the manufacturer name or code. Press "go" to perform the search.
My Manufacturers - click to show all manufacturers in the workgroup selected below.
WG: - filter for a given workgroup. Select "All" to see manufacturers for all workgroups.
Active Only - Select to only show active workgroups.