Users may conduct searches on the Payments page by using the search bar to the right of the screen or by selecting the "Find" button. Users may search for Payments by selecting a combination of search criteria. These criteria are sorted into three categories: Basic, More, and Internal.
1. Navigate to the Payments page.
2. Select the "Find" link in the search bar.
3. The "Find Payments" window will appear.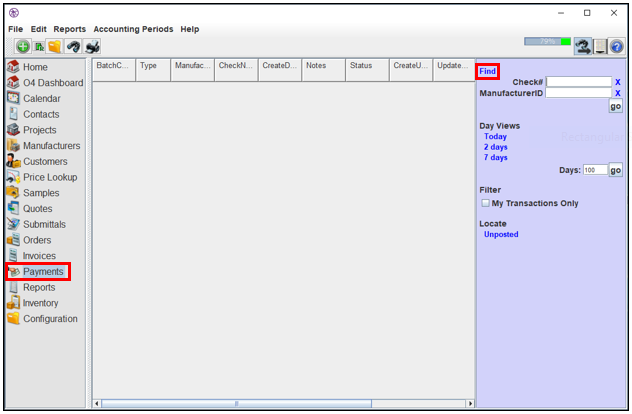 The Basic Tab
Use this tab to search by general project information.
Invoice#- search by invoice number
Check#- search by check number
Batch Code- search by batch code
Invoice Date- search by invoice entry date
Payment Received- search by payment received date
Has Difference- search payments that have a difference
Has Credit- search payments that have a credit balance
Has Debit- search payments that have a debit balance
Vendor Payment- search vendor-side payments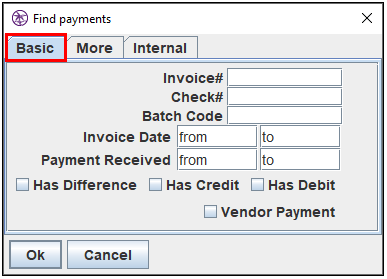 The More Tab
Use this tab to search by the entities associated with the payment
Manufacturer- search for payments by the selected manufacturer
Customer- search for payments by the selected customer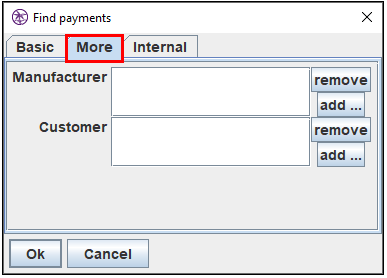 The Internal Tab
Use this tab to search for payments based on internal information
Workgroup- search for payments by the selected workgroup
Payment Type- search for payments by the selected payment type