1. Select the Manufacturers page.
2. Select "Pricing" from the drop-down list.
3. Locate the "Everlast" entry.

4. Select "Everlast" to highlight the entry.
5. Select "Tools."
6. Select "Update Pricing."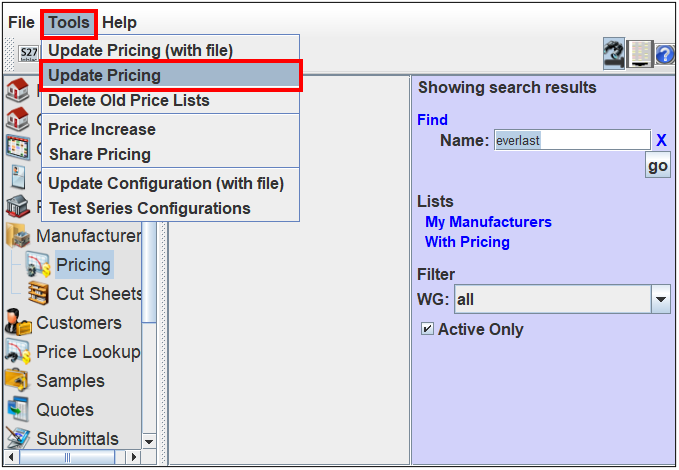 7. A window will appear, indicating that pricing is being downloaded. Note: this may take about fifteen minutes, depending on network speed and the speed of the local server.

8. When pricing is complete, the following windows will appear, indicating the series removed and created.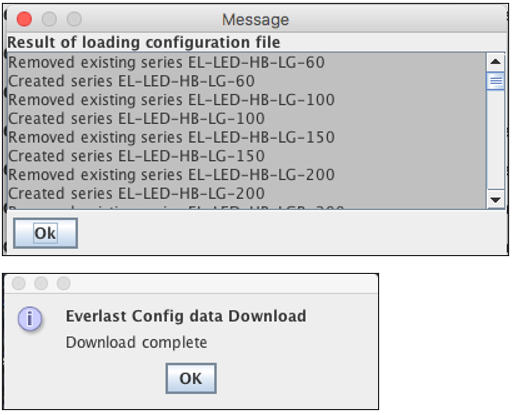 9. At this point, the series are all downloaded and the configuration functions available in Quotes, Orders, and Price Lookup pages can be used.
Quotes and Orders

Tools-->Configurator
Right click on a part field in the Bill of Material and choose Configurator
Start typing in the part and when you have entered enough it will show you the configurable options. You can use the down arrow on your keyboard to highlight the option needed and then the right arrow to choose it and see what the next set of options are.

Price Look Up

Configurator button
Tools-->Configurator