Setting Up Barron Lighting Configuration
1. Navigate to the Manufacturers page.
2. Open or create a manufacturer entry for "Barron Lighting."
3. The "Manufacturer Editor" window will appear.
4. Select the "Terms" tab.
5. Select the "Order Terms" tab
6. Enter the agent number assigned to you by Barron Lighting. Note: for resell manufacturer entries for Barron, enter the same agent number assigned to you by Barron in the "Resell Account Number Field."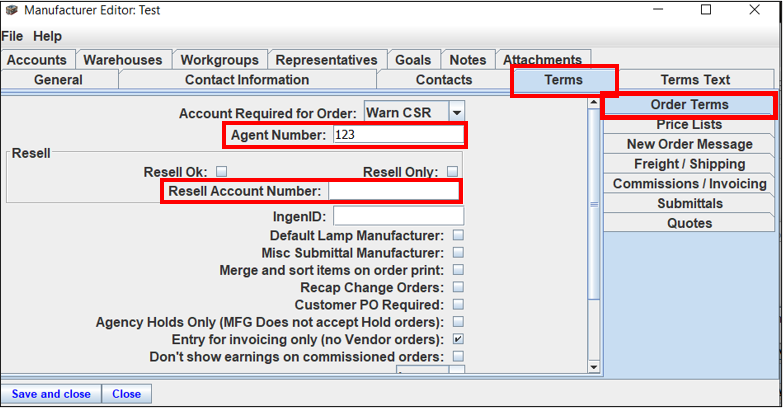 7. Select the "General" tab.
8. In the "Specialization" field, select "Barron" from the drop-down menu.
9. Select "Configure Specialization."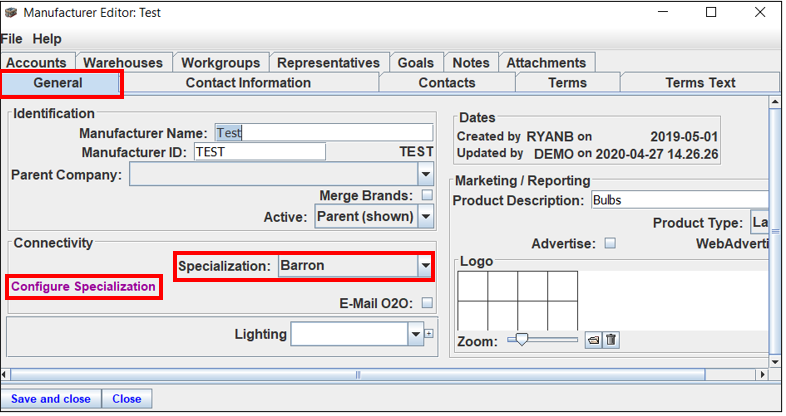 10. A new window will appear.
11. In the "URL" field, enter "http://data.oasissalessoftware.com/data/Barron
12. For the needed workgroup(s), enter the username and passwords provided by Ingen Software.
13. Select "OK" to close the window.
14. Select "Save and Close" to close the "Manufacturer Editor."
15. Restart OASIS for changes to take effect.
Setting Up Exitronix, Growlite, and Tracelite Brands
Use the same steps above if you have a separate Exitronics, Growlite, and Tracelite entries in your database. The only difference is the URL provided. Use the following URLs:
Exitronics: http://data.oasissalessoftware.com/data/Barron/Exitronix
Growlite: http://data.oasissalessoftware.com/data/Barron/Growlite
Tracelite: http://data.oasissalessoftware.com/data/Barron/Tracelite