Attachments are stored directly in the OASIS database. This allows for simplified access for remote users, common backup solutions for all OASIS data, automatic compression, and indexing the data within OASIS. However, large files sometimes need to be referenced from OASIS but do not need to be stored in the database. This document discusses creating a shortcut to the file from within OASIS. Note: users who need access to the file will need to have a common mapped drive and operating system.
Creating Attachment Shortcuts
1. Navigate to the needed location in OASIS where you wish to drop the attachment. Note: this example will use the "Manufacturer Editor" window.
2. Select the "Attachments" tab.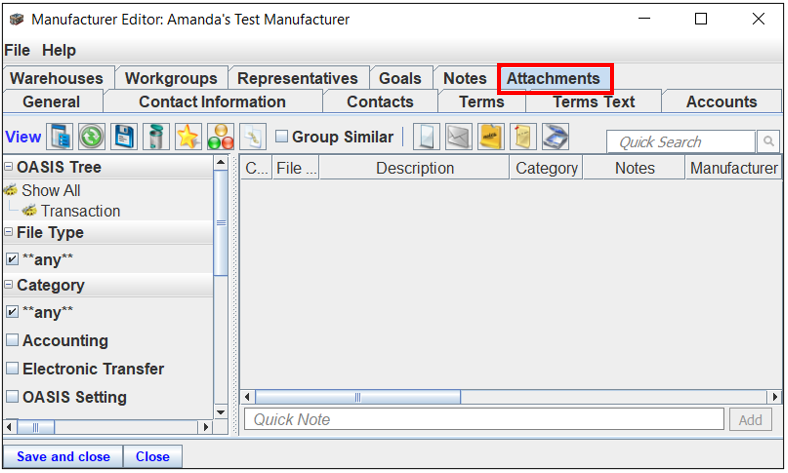 3. Drag and drop the file into the "Attachments" tab.
4. The "Edit Attachment" window will appear.
5. Check the "As Shortcut" box.
6. If needed, rename the file, add notes, categorize and color the file, and add a contact.
7. Select "OK."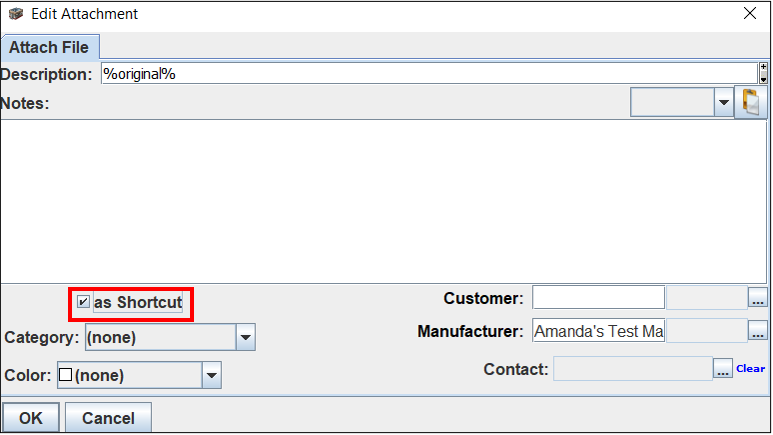 Opening a Shortcut Attachment
1. Locate the shortcut in OASIS.
2. Double-click on the file to open it. Note: if you do not have access to the file location or the file has been moved, the following error message will appear: