Search tags (keys) can be used to create fields that are not currently in OASIS. Once a search tag has been applied to a transaction or entry it can be used for reporting and searching purposes. CAUTION: deleting or modifying a search tag can adversely affect transactions and entries that currently have the tag selected. A script is required to make these changes. Please contact OASIS Support by calling 501-843-6750 or emailing Support@OasisSalesSoftware.com to receive a script.
Creating Search Tags (keys)
1. Navigate to the Configuration page.
2. Select "Software" from the drop-down list.
3. Select "Tags."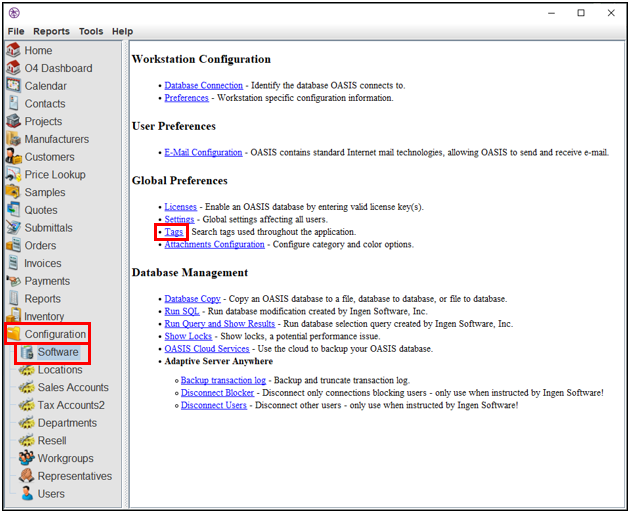 4. The "Search Tag Values" window will appear.
5. Select

to create a new line.
6. Enter a name into the "Key" field.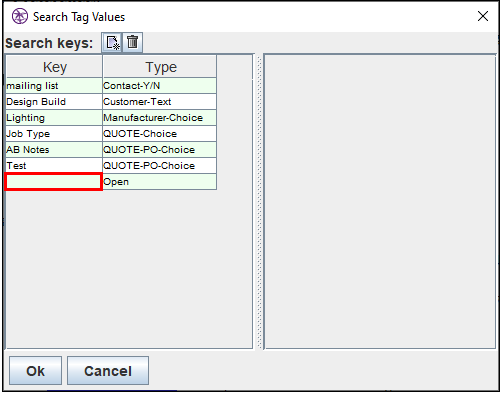 7. On the same line, double-click the corresponding cell in the "Type" column. A drop-down list will appear. Users can set up the following types of search tags for Contacts, Customers, Manufacturers, Orders (POs), Quotes, and Quotes and Orders (POs):
Y/N- create a "yes" or "no" option
Choice- create a list of options to select from (requires values to be inputted)
Text- create a free form text field
Special search tag types are listed below:
Manufacturer-Large Text- creates a text box with two rows of space versus one row; only available for Manufacturers
Customer-Date- creates a date field; only available for Customers
The "Open" search tag type does not have a function.
8. Select a type.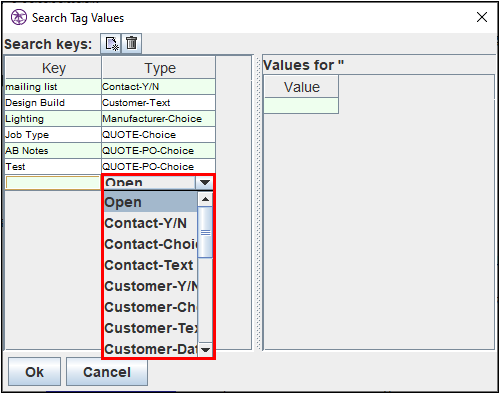 9. Define the options for the search key in "Value" column. To add more than one value, hit enter while within the current cell. Note: only the Choice search tag type requires values to be defined. The Y/N will automatically apply the "Y" and "N" options for the search tag, whereas the Text will be a freeform field in which users will type their own responses.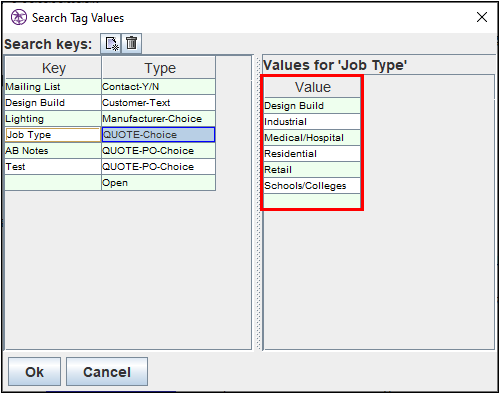 10. Select "OK."
After restarting OASIS, the users will see the search tag appear in "General tab" of the transaction or entry. Note: uses can apply search keys to multiple transactions at once. For more information, click here.