This article will explain how to access catalog pricing and warehouse availability for Cooper. This article assumes Cooper connectivity has already been configured. For more information, click here. Note: this feature is available in release number W985_dev1 onward. To learn how to check your release number, click here.
1. Navigate to the Projects or Quotes page.
2. Open a quote.
3. On the Items tab, select a catalog number in the bill of material.
4. Click the Cooper menu then select Price and Availability from the drop-down menu.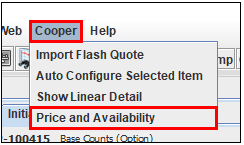 5. The Cooper Price and Availability window will appear.
The Header
The header will display the min, target, and walk price and respective commission rates for the selected catalog number.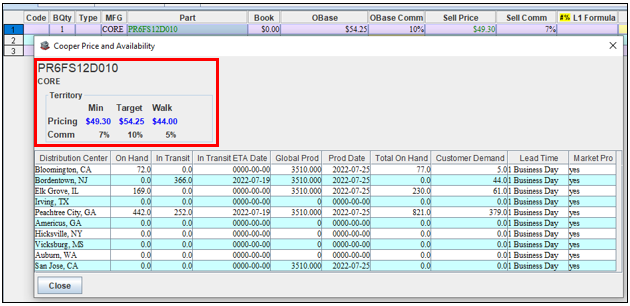 The Table
The table will display each distribution center and its inventory for the selected catalog number. Note: the In Transit ETA Date and Prod Date do not take into account the packaging or unloading times required to have the product ready to ship.
Distribution Center- the distribution center's location (city/state).
On Hand Available- the quantity of product available (total on hand minus customer demand).
In Transit- the quantity in route to the distribution center.
In Transit ETA Date- the estimated arrival date for In Transit stock.
Global Prod- the total quantity scheduled to be produced and be distributed to different distribution centers. Note: the quantity reflected in this column is being produced one time and will be shipped to different distribution centers in an amount reflective of the warehouse's volume forecast.
Prod Date- the upcoming production date for the global prod quantity.
Total On Hand- the exact amount in inventory, including allocated inventory.
Customer Demand- the allocated inventory scheduled to ship in the next two weeks.
Lead Time- the estimated shipping time.
Market Pro- indicates if the part is a part of the MarketPro Stock Lighting Program by Cooper (Y/N).