Users may run a Customer Success Report to track if an action has been taken on a quote or job. This report can summarize quote details by customer. Users may also view total quotes and total dollar values of a job.
1. Navigate to the Projects page.
2. Select "Reports."
3. Select "Customer Success."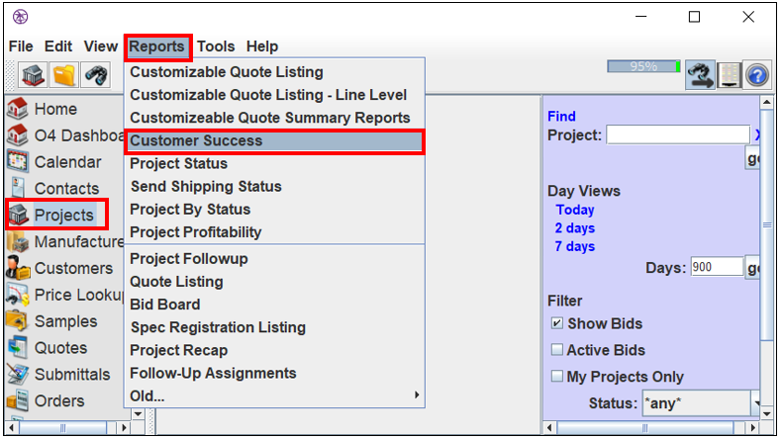 4. The "Customer Success Report" window will appear.
5. Select the "General" tab.
6. Select the "Output to" field.
7. Customize settings as needed.
Title- enter a name of the report.
Timeframe- enter a timeframe of the report.
Customer- add customers to report on. Note: if no customers are selected, the report will include all customers related to the project.
Known Status- enter statuses that are defined in OASIS (i.e submitted, order pending, order).
Unknown Status- Enter "quoted" as the status.
Show Detail- check this box to show all quotes involved
Show Status- check this box to show the status of each quote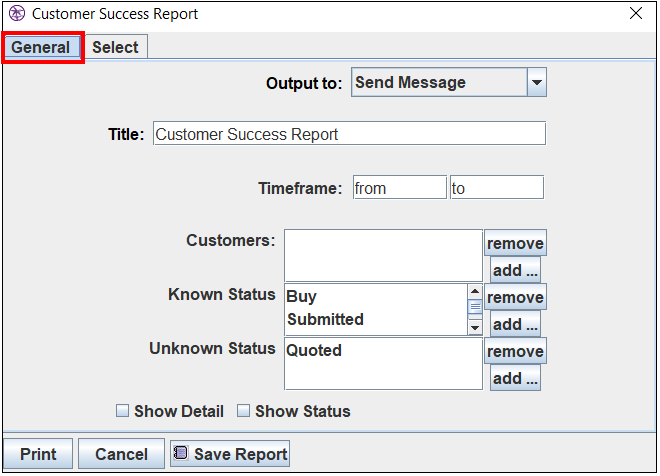 8. Select the "Select" tab.
9. Customize filters as needed.
Basics- filter by general information
Money- filter by minimum dollar amounts on various price levels
Internal- filter by internal items
Parties- filter by parties associated to the transactions
Notes- filter by notes and partial notes
Attachments- filter by attachments
Search Tags (Keys)- filter by search tags
10. Select "Print."