A consolidation PO is a single vendor PO used for shipping materials for multiple customers. This is useful when importing material, gaining discounts by buying carton quantities, or repackaging materials locally before sending to a customer (as opposed to shipping from the manufacturer direct to the customer).
Understanding Consolidation POs
From the order screen, the allocation drop-down entry "Consolidation PO" indicates to OASIS that a consolidation PO should be started to added to. Note: it is possible to have standard and consolidation POs active for the same manufacturer.
When printing, the following decision tree is used to allocate material fro a consolidation PO:
If an existing consolidation PO has been allocated to the current order for the line's manufacturer code, it is used. The PO must not have been sent to the manufacturer.
If an existing consolidation PO is available for the line's manufacturer code, the consolidation PO is allocated to the current customer order, and material is added to the consolidation PO.
Otherwise, a new consolidation PO is created and made available to other customer orders.
Note: once a consolidation PO is "printed" and sent to the factory, it may not be added to again. However, changes are allowed from the corresponding customer order.
Starting a Consolidation PO
1. Navigate to the Orders page.
2. Create a customer order containing material to be consolidated and material to be sent direct from the factory to the customer.
3. Select the "Items" tab.
3. In the items rows to be consolidated, locate the "Source" column.
4. Using the drop-down arrow, select "Hint: Consolidation PO."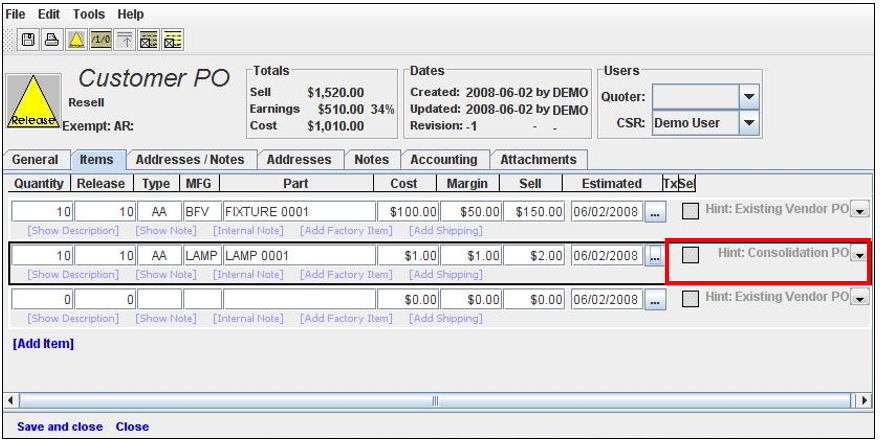 5. Select "Save and Close."
6. When printing a Consolidation PO, print the order as you would normally. For more information, click here.
7. In the "Print PO" window, manually check the box corresponding to the Consolidation PO.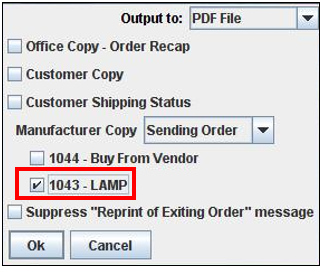 8. Select "Print."