Users may build price lists directly in OASIS and send some or all of the pricing to customers (all versions) or representatives (manufacturer version). The data is sent via email and the following formats are supported:
PDF- Adobe's PDF format
Excel- Microsoft's .xls format
O2O- OASIS format directly loadable into OASIS
This process can be completed from the Manufacturers page and the Pricing page. Note: this example will use the Manufacturers page.
1. Navigate to the Manufacturers page.
2. Select the needed manufacturer, so it is highlighted.
3. Select "Tools."
4. Select "Share Pricing."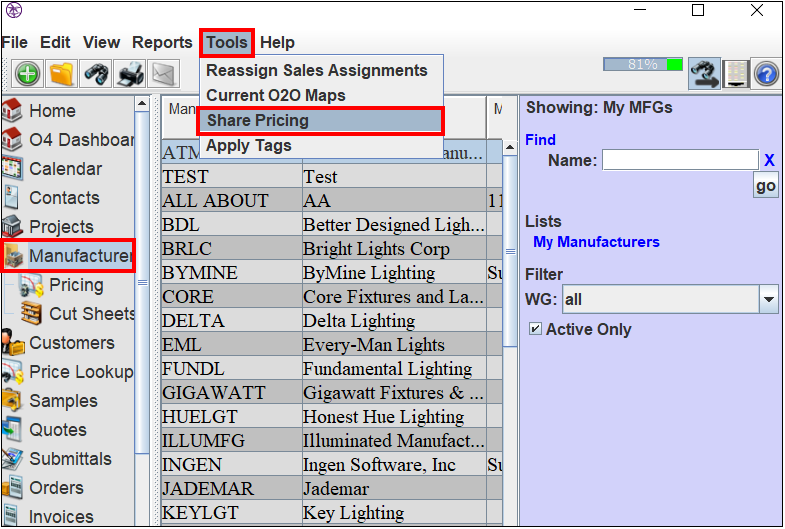 5. The "Share Pricing" window will appear, displaying all customers that have accounts for the factory.
6. Share the active price list and/ or the active series by checking the corresponding boxes.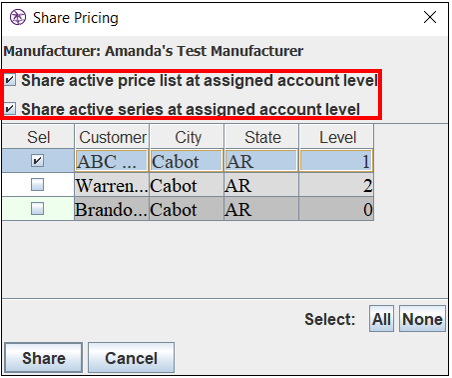 7. Check the box corresponding to the customer(s) you wish to share pricing with. Note: to share pricing with all listed accounts, select "All" at the bottom of the window.
8. Confirm the value in the "Level" column is correct. This column identifies the pricing column to be shared with the customer. If this is not correct, close the "Share Pricing" window and adjust the price level on the "Accounts" tab of the "Manufacturer Editor" window. For more information, click here.
9. Select "Share."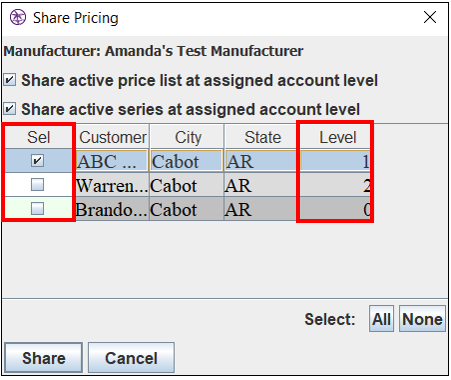 10. The "Send Multiple Messages" window will appear.
11. Listed to the left are all the emails prepared to be sent to the selected customers. There will always be a PDF attachment containing the pricing. Depending upon the customer setting, the customer will also receive a Microsoft Excel spreadsheet version of the pricing or an O2O version of the pricing. The O2O version of pricing is formatted such that the pricing may be loaded into the version of OASIS used by the customer.