The Win/Loss Tile will display complex information in a compact manner for quick and easy readability. The tile will show counts and valuations related to win, lost, and unknown quote status. This article will explain how to read the Win/Loss tile.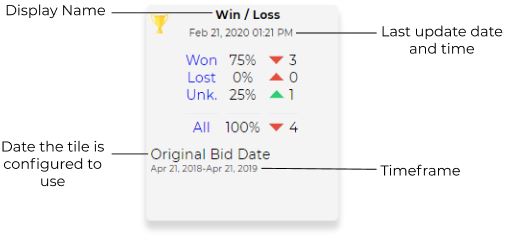 The left column lists the different quote statuses that the tile is tracking counts and valuations for. The tile will display data for won, lost, and unknown quote statuses, as well as the running total (All). By selecting the blue links, users will be redirected to a more detailed view of the tile. For more information, click here.

The center column lists the percentages associated with each quote status compared to all the quotes being tracked by the tile. For example, quotes listed as a "win" status make up 75% of the quotes in the tile, while quotes with a "lost" status make up 0%, and quotes with an "unknown" status make up 25% of the quotes in the tile.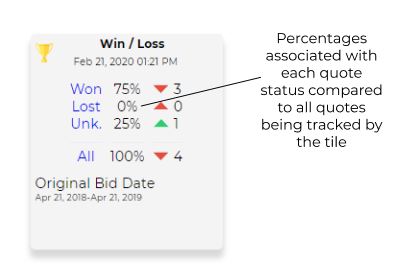 The right column tracks the counts for each tile and compares this count to the month of the previous year using a trend arrow. The trend arrow may appear in red or green, depending on if the count is higher (green) or lower (red) than the month of the previous year. For quotes in a lost status, the trend will appear red if users have more losses than the previous year period and will appear green if users have fewer losses than the previous year. Note: this comparison is made using the offset month defined during the tile's configuration. For example, if it is April and the tile is offset by 3 months, the tile will be comparing January of this year to January of last year.