Registration of lighting specifications is a must for any agency that is hoping to gain credit for out of territory jobs. This also helps the manufacturers and local agents maintain and profit from the job specification.
OASIS helps identify the specification through a standard form that is generated from data already in OASIS and provides the agency with tools to monitor registered specifications. 
Enabling Spec Registration
1. Navigate to the Project page.
2. Create a new project or open an existing project.
3. Fill in the project information as needed. 
4. Select the "General" tab. Note: ensure that this tab of the phase identifies the internal commission account splits to be used. Inter-Agency splits, internal commission accounts, and specifier information is copied to all orders and invoices associated with the project. 
5. Check the "For Spec Registration" box. 
6. Select "Save and Close."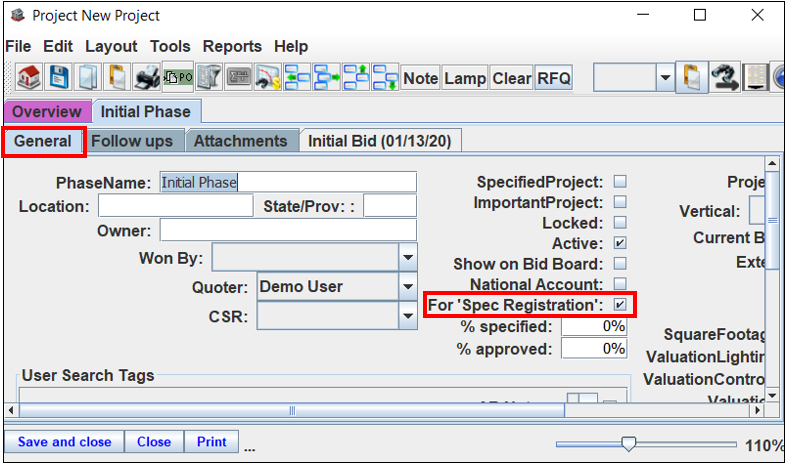 Registering the Project
To ensure proper credit for the project, the manufacturer must be notified. The OASIS spec registration form contains information required by most manufacturers to track specification credits. Additionally, the form may be sent to the local rep agency to track bootleg and cherry picking.
1. In the same project, select the "Manufacturers" tab.
2. Select a manufacturer, so it is highlighted. 
3. Select "Split" in the same manufacturer row. Note: if all splits will be the same, use the "Splits" button at the top of the tab.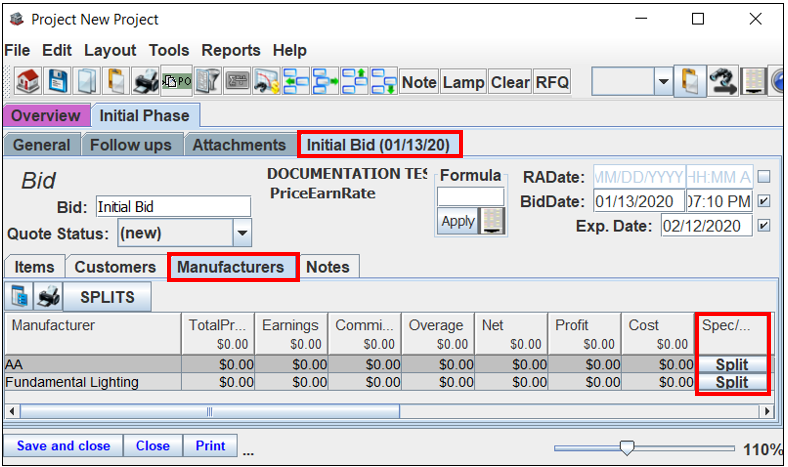 4. The "Sales Credit Between Agencies" window will appear.
5. Enter the credit the agency will receive." Note: this information will be copied into new orders created from the project. 
6. Select "OK."

Printing Specification Registration 
Once Spec Registration has been enabled, OASIS will allow users to print or send the specification registration form to one or more manufacturers. For more information, click here. 
Monitoring the Job
There exists no magic method to ensure the agency receives proper credit for an out of territory job. However, OASIS allows users to manually manage this, using the "Specification Registration Listing." For more information, click here.