Every five minutes, OASIS saves a copy of the quote bill of material to the local computer hard drive. This allows OASIS to recover from a local system failure or network failure. When OASIS is restarted and the quote is reopened, the system will ask if users would like to recover from the saved quote. Note: users MUST hit the save button within the quote in order to activate this feature.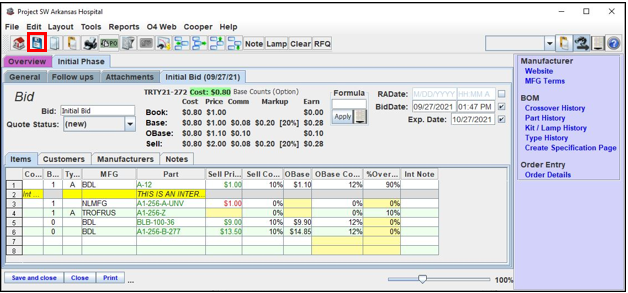 This documentation assumes that users have experienced a local system or network failure and have restarted OASIS.
1. Navigate to the "Quotes" page.
2. Reopen the needed quote.
3. The "Auto Save for Quote" window will appear, listing the different saved versions that are available.
4. Located the needed version. Note: the oldest versions will appear first.
Entry 1- the oldest entry, saved about ten minutes ago.
Entry 2- the last entry before the PC lost power.
Entry 3- the quote as it is stored on the server right now.
5. Select "View" to load the quote editor with the contents of that entry.

6. The entry of the quote will appear.
7. Save the quote.
8. The "Auto Recovery..." window will remain open until "Close" is selected. Note: ensure you have saved the needed version of the quote before completing this process.

9. Once "Close" is selected, update the quote as needed.
10. Upon saving, the "LAST SAVE WINS!!" window will appear. Select "Save Anyway" to save the quote.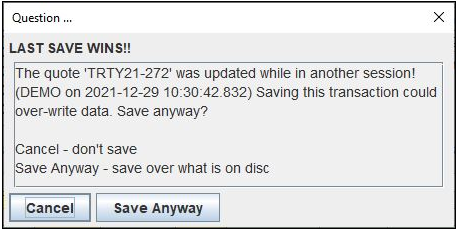 Trick
If network failure has damaged OASIS, leave OASIS running and start another OASIS session. When opening the quote in the new session, the saved quote will be available in the new session. Note: OASIS deletes the saved files when the quote window closes-- whether using "Save and Close" or "Close."