The Edit Tiles page displays all the active tiles in the user's database. This page will display general information for each tile, such as the date it was created and the date of its last update. Additionally, users may filter the page to efficiently locate the needed tile. Through this page, users may edit, clone, and delete tiles.
1. Navigate to the Home Page.
2. Select "Tiles."
3. Select "Edit."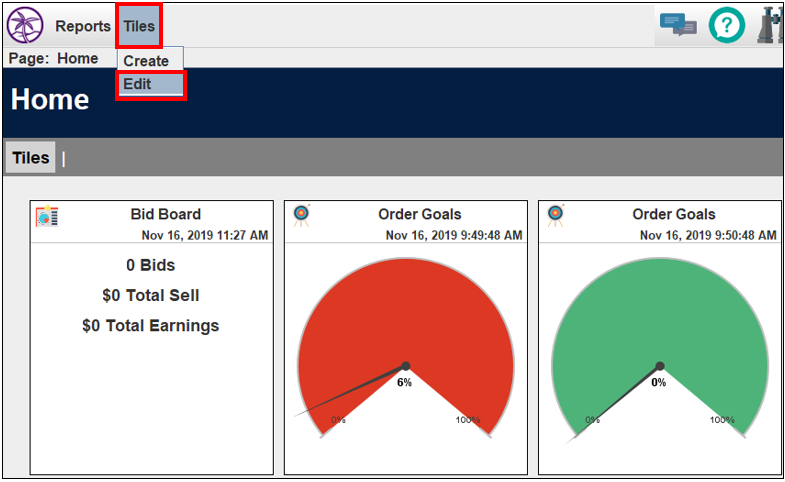 4. The "Edit Tiles" page will appear.
5. Use the search fields to filter by tile type and by user. This example filters for "Sales Accounts Goals" and "Demo User."
6. Select the "Enter" key to run a search for tiles that correspond to the selected fields.
7. Tile icons will appear and will display general information about the tile.
Created On- the date and time the tile was created
Updated On- the date and time the tile was last updated
Internal ID- the internal ID associated with the tile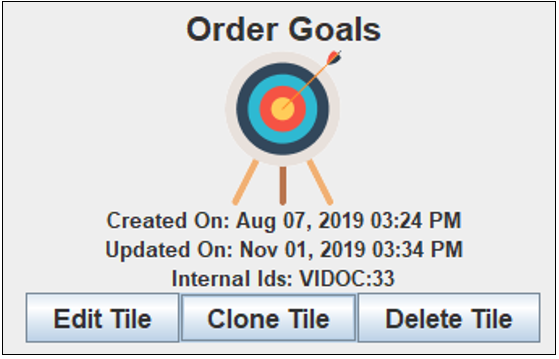 8. Three options are available for each tile.
Edit Tile- select this button to edit tile settings.
Clone Tile- select this button to create a duplicate of the tile.
Delete Tile- select this button to delete the tile.