Use the "Workstation Preferences" window to customize general OASIS settings, such as auto-login, temp directory location, and print settings, as well as customize settings for the entire database, such as connection speed and debug connection.
1. Navigate to the Configuration page.
2. Select "Software" from the drop-down list.
3. Locate the "Workstation Configuration" area.
4. Select "Preferences."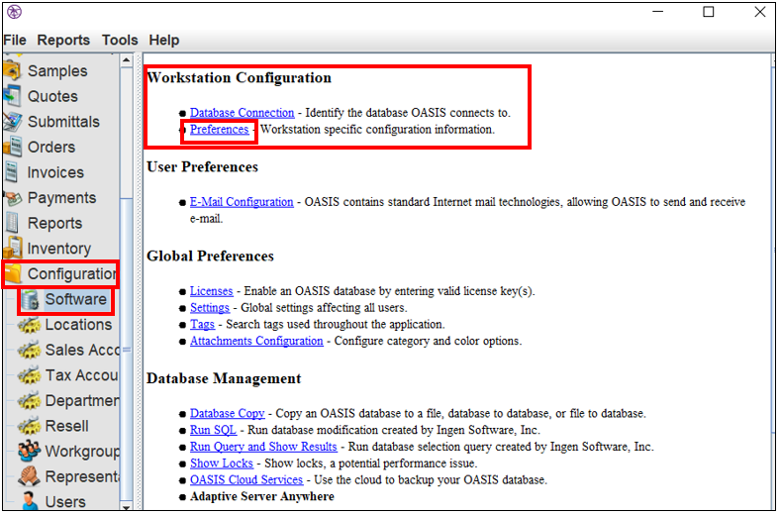 5. The "Workstation Settings" window will appear.
The General Tab
1. Use this tab to set auto-login, customize print settings, enable alternate temp directory, and adjust OASIS font throughout the software.
2. Customize settings as needed.
Auto-Login- check this box to automatically log into OASIS. Note: users must also enter their user ID and password
Force printer resolution to- set the printer resolution manually.
Safe margins- set safe margins for some inkjet printers.
Hide OASIS icon in Windows Tray- hides the icon.
Use internal PDF Viewer- enables the internal PDF viewer.
Use alternate TEMP directory- allows users to change location and direct OASIS to the temp folder. Note: use the button to select a file from your computer.
Adjust Primary Font- allows users to increase or decrease the overall font of OASIS.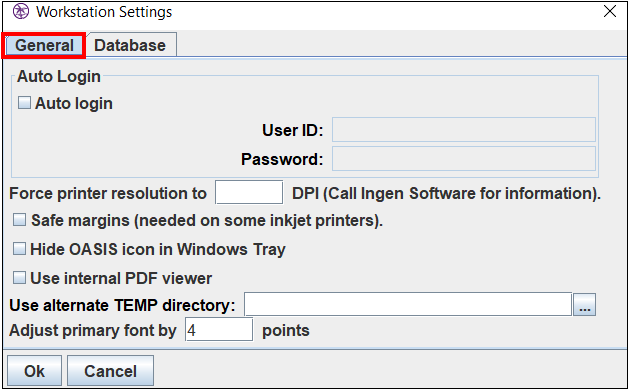 The Database Tab
1. Use this tab to customize database settings.
2. Customize settings as needed.
Database connection speed- select the speed of connection for OASIS by checking one of the following options:

Slow- for users that make fewer calls to the database
Normal- typical settings
Fast- for users that use enhanced features

Auto DB Reconnect- check this box to set the database to automatically reconnect.
Cache database calls- check this box to have OASIS cache all calls that are made to the database.
Use Debug Connection- check this box to add more detail to the logs.
If setup, use this system for sync services- check this box to set the system to automatically sync other services.
3. Select "OK."