The Attachments tab can be accessed across many applications within O4. It allows users to upload, download, label, and filter files that relate to a transaction or entity. This article will explain how to navigate the Attachments tab and upload files. Note: when opening an attachment in O4 on a mobile device, the attachment will automatically download if it is less than or equal to 2MB.
1. Open the Attachments tab of a transaction or entity.
2. Click Add Attachments to upload a file. Alternatively, users can drag and drop an attachment directly into the tab.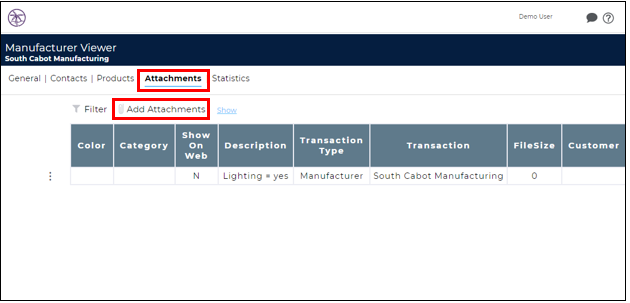 3. The Attachment Editor will appear. Define fields as necessary.
Description- the name of the file.
Notes- comments pertaining to the file.
Color- the color that best describes the file.
Category- the category that best describes the file.
Show on Web- allow the attachment to be accessed in O4 when using the Send Message as Link print option in submittals.
Manufacturer- the manufacturer that that is associated with the file.
Customer- the customer that that is associated with the file.
Contact- the contact that is associated with the file.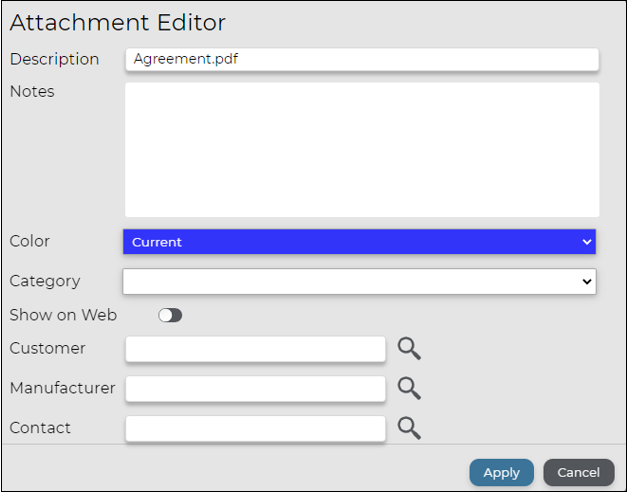 4. Click
.
5. The attachment will appear. To view the attachment, click any cell in the row.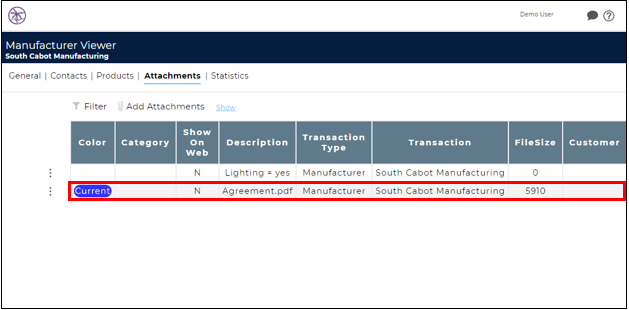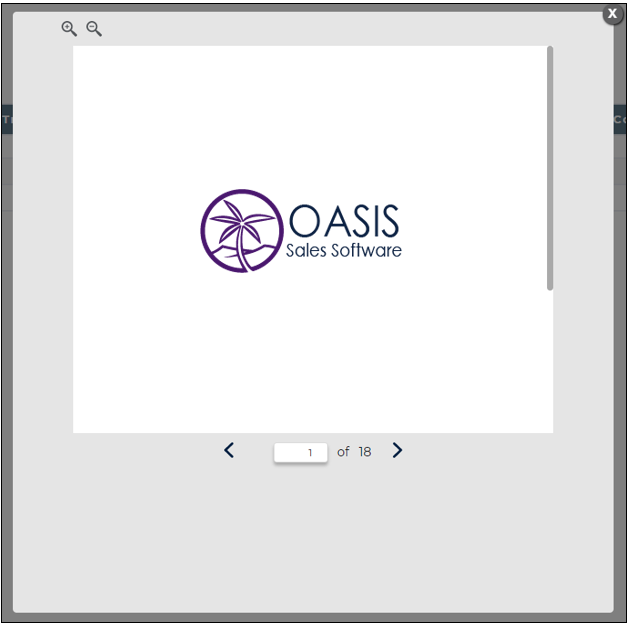 6. Continue adding attachments as necessary. Click Show to view all attachments uploaded during the session. Note: leaving the Attachments tab will reset the session.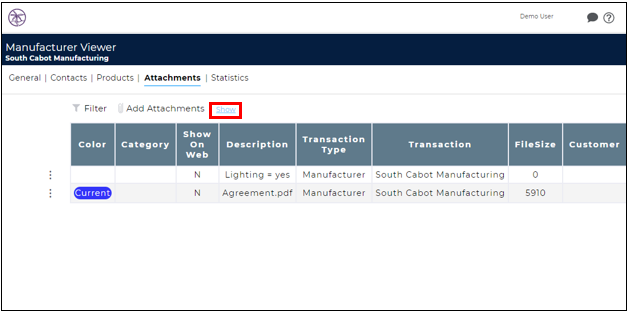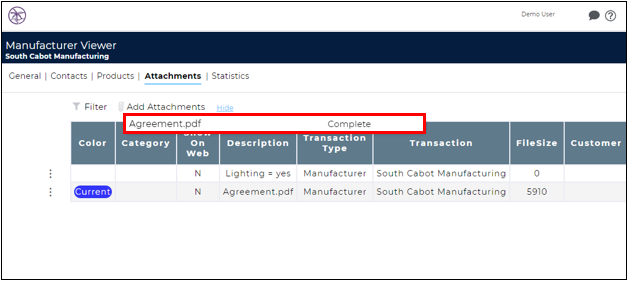 7. Click Filter to filter attachments. Filter options become available once an uploaded attachment contains the respective information. For example, if at least one uploaded file has been assigned a color, the Color filter will be available.
Color- the assigned color of the attachment
Category- the assigned category of the attachment
Show On Web- whether the attachment has the Show on Web checkbox checked
Transaction Type- the type of transaction the file is associated with (e.g., order, project, etc.)
Transaction- the transaction ID (e.g., project name, PO number, etc.) of the associated transaction
FileSize- the file size of the attachment
Customer- the customer associated with the attachment
Manufacturer- the manufacturer associated with the attachment
Contact- the contact associated with the attachment
Create Date- the date the attachment was created or uploaded
File Type- the file type of the attachment (e.g., .pdf, .txt, etc.)
Update Date- the date when the attachment was last updated
User- the user who last updated the attachment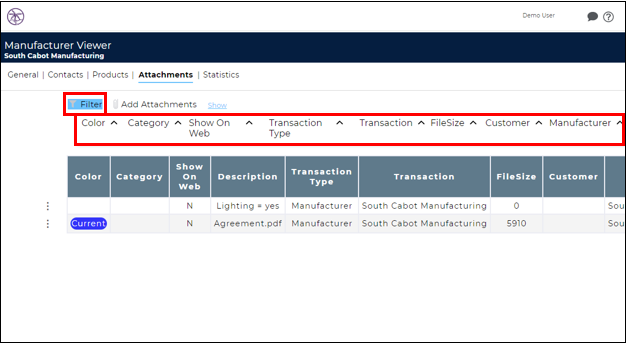 8. To download, edit, or delete an attachment, click

directly to the left of the row to access a drop-down menu.