The Shipments tab of Global Settings allow users to customize settings that affect shipping functionality in OASIS. This article will define and provide recommendations for each setting available. Note: changing settings from O4 impacts Legacy OASIS as well.
1. Click the
icon.
2. Select Configuration from the drop-down list.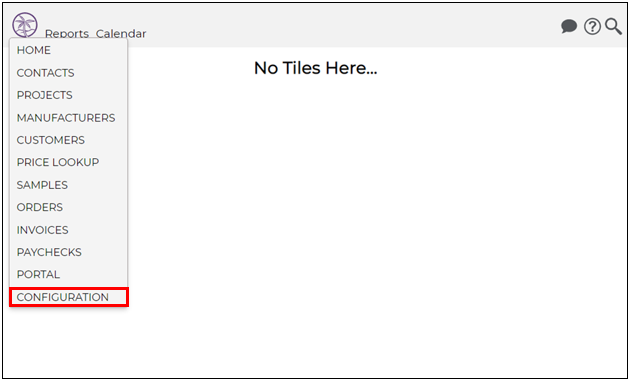 3. Click Software.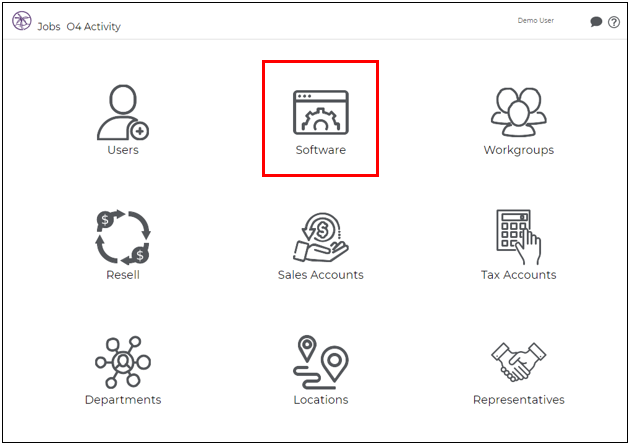 4. The Software page will appear. Click the Global Settings tab, then the Shipments tab.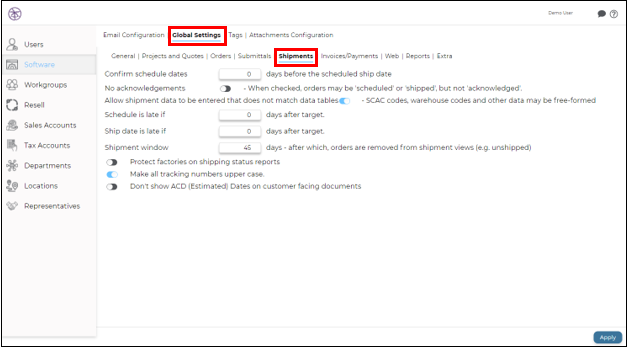 | Setting / Field | Purpose / Action | Recommendation |
| --- | --- | --- |
| Confirm schedule dates X days before the scheduled ship date | After X days without a schedule, the order is listed as "Unscheduled" in the blue search bar and related reports in the orders section of OASIS. NOTE: only one line on the order is required to trigger. | Discretionary |
| No acknowledgments | When checked, orders may be "scheduled" or "shipped" but not "acknowledged" | Discretionary |
| Allow shipment data to be entered that does not match data tables | SCAC codes, warehouse codes and other data may be free-formed | Discretionary |
| The schedule is late if X days after target. | When a scheduled date is added to a line on an order, the target date is set for that line. If the line is then re-dated X days after the target date, the order has "missed the target date". This helps orders that are being re-dated a lot and only focuses on orders that have truly missed the ship date. | Discretionary |
| Ship date is late if X days after target. | The order is listed as "Missed Target" in the blue search bar and related reports in the orders section of OASIS if the scheduled date on any line in the order is prior to "today". | Discretionary |
| Shipment window X days - after which, orders are removed from shipment views (e.g. unshipped) | Shipping information is ignored after X day from the entry date of the order. | Discretionary |
| Project factories on shipping status reports | When printing a project (or order) "shipping" status report, the manufacturer is hidden and the resell company name is shown instead. (For resell orders only - does not apply to commissioned orders.) | Discretionary |