The Contact Editor contains general information, contact information, Customer Portal login information, and more that is associated with the contact entry. This article will explain how to access the Contact Editor and will define the fields that are available.
Requirements:
Accessing the Contact Editor
1. Click the

icon.
2. Select Contacts from the drop-down list.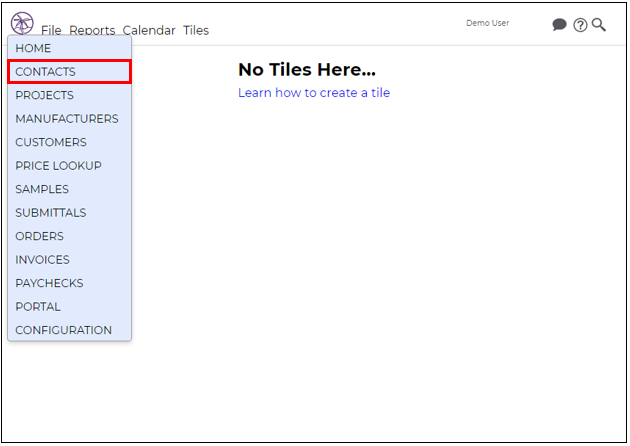 3. The Contact Listing will appear.
4. Open an existing contact.
5. The Contact Viewer will appear. It contains two tabs: the General tab and the Attachments tab.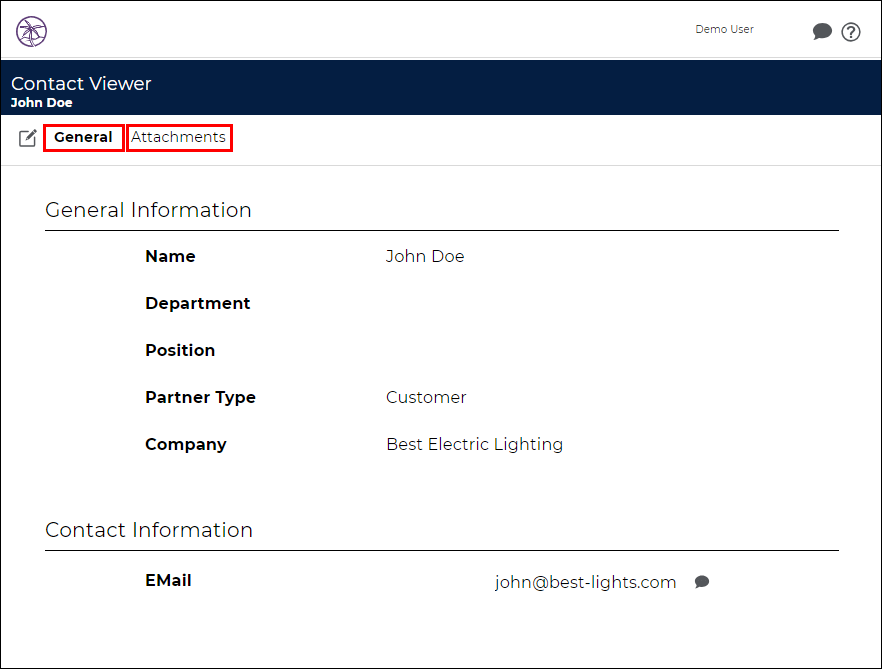 6. Click

to open the Contact Editor.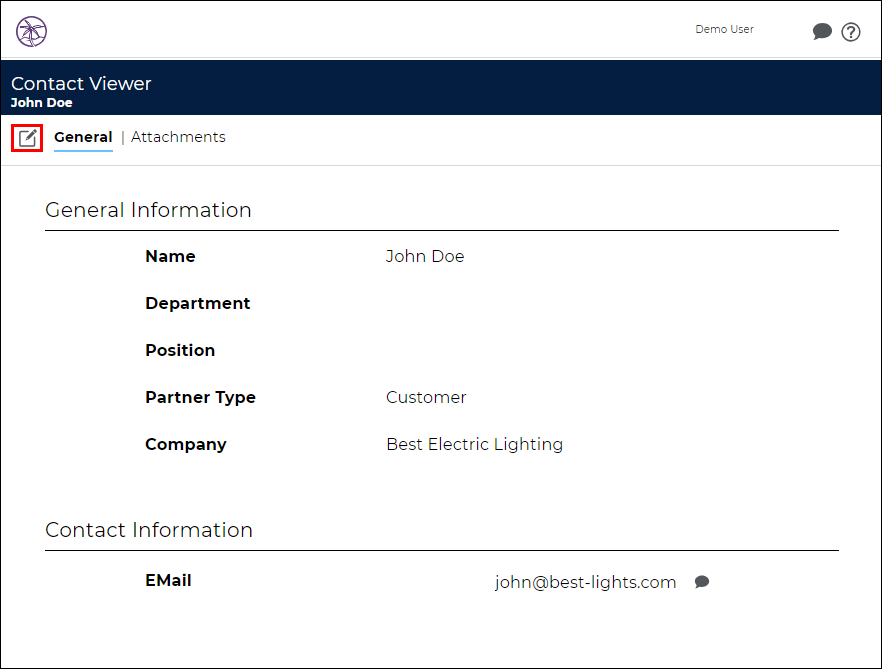 The General Tab
The General tab contains all information related to the contact. It is divided into six sections: General Information, Contact Information, Marketing & Order Influence, User Keys & Web Access, Work Address, and Notes.
General Information
The General Information section contains identifying information related to the contact such as name, job department and position, and company. When a partner type is selected, the selection will be seen as the following drop-down field and it will identify the entry in OASIS.
For example, in the screenshot below, "Customer" was selected from the Partner Type drop-down field which generated the Customer drop-down field. The customer entry in OASIS, Best Electric Lighting, is identified.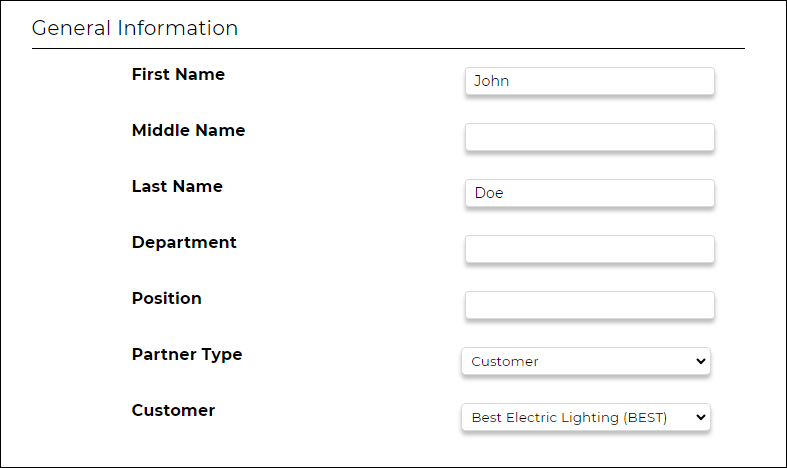 Contact Information
The Contact Information section contains contact information for the contact, such as email and phone number. Click

to add contact information.
Marketing & Order Influence
The Marketing & Order Entry influence contains information related to marketing processes and order entry processes.
Suppress- this feature is currently not functional.
Sales Stage- the unique sales stage defined in the Contact Configuration tool.
Contact Group- the unique group defined in the Contact Configuration tool.
Role- the contact's customer role.
Assigned Sales- the user assigned to the contact. The user must have the Sales role selected and a Comm. Account (sales account) assigned in their user account to appear in this drop-down list.
Influence- the contact's rank number used for influence. This number is manually entered.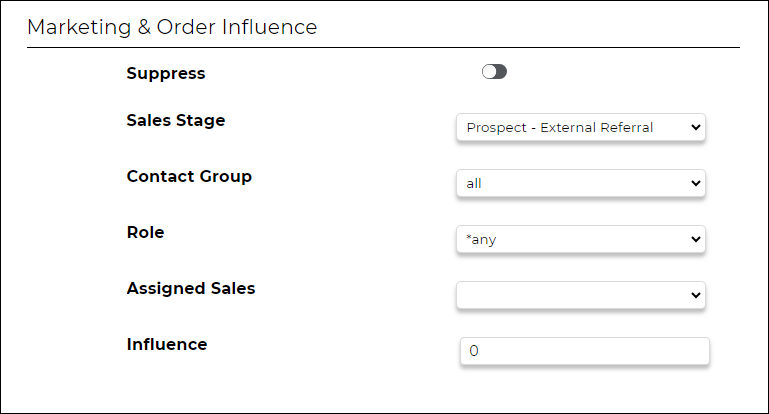 User Keys & Web Access
The User Keys & Web Access section is used to define contact search tags, set up a contact's password for the Customer Portal, and generate a bearer token.
Web UserID- this field is not functional. Contacts will use their email address set up in the Contact Information section to sign into the Customer Portal.
Web Password- a unique password.
Web Password Expiration- an expiration date for the password.
Generate API Bearer Token- a bearer token for accessing the Order Status JSON API using an external API program.

Work Address
The Work Address section contains the contact's work address.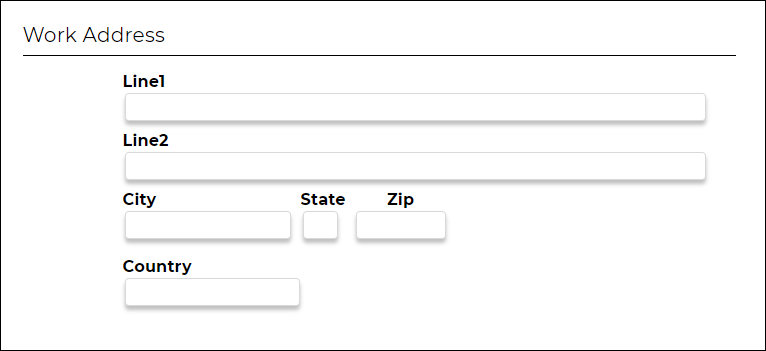 Notes
The Notes section contains internal notes related to the contact. These notes do not appear on transaction prints.

The Attachments Tab
The Attachments tab contains electronic files related to the Contact. Learn more about using the Attachments tab in O4.